Washington Commanders' Sean Taylor memorial an epic fail
Over the weekend, the Washington Commanders revealed a new "statue" memorializing Sean Taylor, a former safety who played for the organization from 2004-07, earning two Pro Bowl nods before his death at 24 years old. Taylor was a phenomenal young talent, family-oriented, and a hell of a workhorse on the field.
Prior to the "statue" unveiling, the Commanders had tried, in years past, to honor Taylor's memory. In 2021, the Commanders retired his No. 21 jersey prior to a matchup with the Chiefs. Apart from the ceremony, Washington also printed a large "21″ on the side of the field, sectioned off by plastic white chains. The ceremony was overshadowed by controversy though when Chiefs' quarterback Patrick Mahomes' annoying brother, Jackson Mahomes, took a video of himself dancing atop the "21″ meant to honor Taylor's legacy, and promptly posted said video to social media.
This controversy led several people within the Commanders' front office to believe Taylor needed another, more proper memorialization, one that wasn't burdened with unforeseen controversy. Enter the "statue." I've been putting quotation marks around that word because the end result wasn't as much a statue as it was a wiry mannequin with several aspects of Taylor's person being supposedly misrepresented.
This was the general consensus, one of disgust, contempt, and flat-out disappointment. Amid all the poorly-handled controversies the Commanders had endured over the last three or so years — the cheerleader email scandal, team owner Dan Snyder threatening to release "dirt" on other NFL owners and commissioner Roger Goodell, former first-round selection Dwayne Haskins' tragic death — the franchise was handed a public relations layup with Sean Taylor's memorial. How hard could it be to mess up honoring a fallen teammate? Build a statue. Put it front and center within the team's stadium or just outside it, and voila, the public would cheer endlessly. Well, apparently, it's pretty easy.
G/O Media may get a commission
Despite the public's dissatisfaction with the Taylor statue, members of Taylor's inner circle seemed more than pleased with this memorial. Taylor's half-brother, Jamal Johnson, stated "It's an honor, like I said, once again it's an honor to get that kind of love and respect from an organization." Taylor's daughter, Jackie Taylor, expressed similar content, saying, "It was beautiful, honestly. They put everything that he wore — soccer cleats, little things that were special to him and that he did as a player. That was really special."
An aspect of the statue that most of the public seemed to despise, Taylor's family loved most of all. Even as I write this now, most casual fans who've seen the statue are upset about the soccer cleats. That is a failure on the end of the Washington Commanders. They failed to properly communicate to fans what they were doing with each part of the memorial. While the same defense can't be made for the black gloves that can be made for the soccer cleats, I'd hesitate to assume that decision was made hastily and without thought, as many people assumed with the soccer cleats.
Still, many questions remain. The Commanders would've been praised if they'd just built a normal bronze or copper or stone statue, just as the Arizona Cardinals did for Pat Tillman when he was killed, or the Philadelphia Eagles did to commemorate the "Philly Special" play that helped them win their first Super Bowl, so why didn't they do that? What steps could the Commanders have taken to limit backlash from the statue? Did the Commanders' horrible public image play a role in the massive public backlash the organization received after unveiling the statue?
I spoke with Dustin York, associate professor of Communication at Maryville University, on the matter. York has an extensive history in public relations, having worked with notable brands such as Nike, PepsiCo., and Scottrade Financial Services, as well as former President Barack Obama's 2008 political campaign. York's initial reaction to the statue was the same as most of us — filled with disappointment. However, as more information regarding the memorial's design choices came to light including his family's reaction, York's disappointment shifted from pinning the blame on the entire Commanders' organization to pinning the blame on the organization's PR team.
York expressed his discontent with the Commanders' lack of transparency as well as internal communication before the statue's unveiling. "Whether there's hierarchy issues or strategy issues, the internal communication with this organization has not lived up to the benchmark other teams have set," said York. "This event clearly lacked oversight. It probably didn't even undergo red teaming."
Red teaming is "the practice of rigorously challenging plans, policies, systems, and assumptions by adopting an adversarial approach." Essentially, an idea is brought forth and a group of people will tear it apart limb from limb looking for any angle that the public could misconstrue as poor taste. This group should, in a perfect world, find any flaw or lack of transparency that would cause an outcry from fans for being insensitive, historically inaccurate, or otherwise distasteful. York has experience working in this aspect of PR, and was discouraged by the Commanders' obvious oversteps regarding these basic marketing rules.
"I don't know if they're not paying for it, or if they're paying for the wrong people," cried York. "But these golden rules of laying out these plans and processes aren't being followed." York expressed even more dismay regarding the Commanders' lack of transparency regarding the decision to put Taylor's statue in soccer cleats. "Even [Taylor's] daughter said that the soccer shoes represented his hobbies. That was the intention behind that decision. It was supposed to represent his hobbies. [The Commanders] didn't even communicate that well. So now rumors are going around that they just messed up. 'Why would you even pick soccer?' So, even with the things they did 'right', the team isn't communicating those decisions and then they are seen in a bad light."
Obviously, rolling this mannequin out as a memorial was a risky decision, given the easy home run that a bronze or stone statue would've been. Why not give Taylor that send-off that fans would have considered worthy of Taylor's legacy? "I don't have that exact answer," admitted York. "Timing is probably the most likely culprit. I mean, the Commanders have faced a lot of other crises recently, so perhaps this memorial was given the back-burner. I'm sure this was planned out a year ago, but because of other stories and issues surrounding the team, perhaps something like this that was supposed to be a fan relations softball, was put off to give resources and attention to other, more immediate, urgent matters."
Dan Snyder and the Commanders' poor public image probably also played a role in how poorly the Taylor mannequin was received. "It's always easy to beat up on the troubled child. Anytime any organization has had a series of crises, any other small misstep is going to shine a huge spotlight on them." York continued, "If this happened to the Dallas Cowboys, let's say, would it have gotten as much bad press? I wouldn't think so. Think of it like this. If there's an NFL player that's known for being dirty, do you think the refs would keep a closer eye on him, and call penalties on that player quicker? Absolutely, because there's a history. The same basic concept is happening here."
Despite York believing the Commanders' Taylor memorial was better than most people will give it credit for, he doesn't believe the team is done honoring No. 21. "What the Commanders are really searching for is a PR win, and I wouldn't be surprised if there's something else planned down the line, because this obviously was not a win." If that is the case, hopefully, the Commanders will review their decisions a little more thoroughly before rolling them out.
No mention of Flores' lawsuit in Goodell Super Bowl presser
Every year at the Super Bowl, journalists get a chance to ask NFL Commissioner Roger Goodell the questions that need to be answered on live television as the world watches. This year, the inquiries and subject matters ranged from two Black quarterbacks making history, Damar Hamlin, officiating, and the potential ways that the league will broadcast upcoming games. But, the Black cloud — no pun intended — that's been hovering over the NFL for over a year wasn't mentioned once on Wednesday. And it's proof that the NFL is loving the fact that people seem to have forgotten that Brian Flores, Steve Wilks, and Ray Horton have an ongoing class-action lawsuit against the league for its alleged racist hiring practices.
Distractions are part of the game
It's been over a year since the former Miami Dolphins head coach — and current defensive coordinator for the Minnesota Vikings — dropped a bomb on the sports world when he decided that legal action was the only way to make people thoroughly understand just how rigged the game is for Black coaches in the NFL.
"It's hard to speak out…but this is bigger than football. This is bigger than coaching," said Flores.
Days later, Goodell was on stage answering questions at the Super Bowl about that, and more.
"I think I'd start with the basis that racism or any form of discrimination is against our values. And really something that we will not tolerate," he said at last year's press conference.
G/O Media may get a commission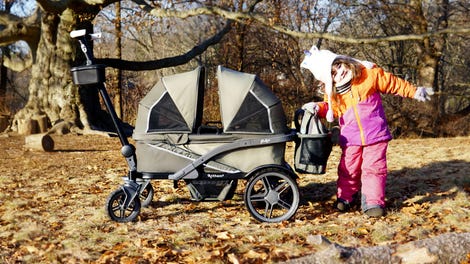 30% off
The Anthem All-Terrain Stroller Wagon Adventure Bundle
Go everywhere with your kids
This must-have bundle nets you either of Gladly's award-winning Anthem2 or Anthem4 All-Terrain Stroller Wagons as well as must-have accessories like a parent cupholder, a removable storage basket, extra-large canopies, a nap system, quilted comfort seats, a cooler bag with a padded shoulder strap, and a travel bag.
Same as it ever was
On Wednesday, it was more of the same. "I do, but I still feel like there's better work, and more work ahead of us," Goodell said about the "meaningful progress" that's taken place with diversity amongst head coaches. "I think that there is progress, and we're pleased to see progress. But it's never enough."
A lot has happened since Goodell took the stage last year in Los Angeles and when he returned to it in Arizona. For instance, Steve Wilks and Ray Horton joined Flores' lawsuit. Flores spent last season as an assistant with the Pittsburgh Steelers, and he's now with the Vikings — as an assistant, again. Wilks was the interim head coach of the Carolina Panthers, but due to the history of the men who carry that title with his skin color, he never had a chance of permanently landing the job — no matter if Panthers owner David Tepper is claiming to be trying to eradicate the league's "old boys network." Horton is coaching in the USFL. And you can still count the number of African-American head coaches in the league on one hand and have some fingers left to spare, as Mike Tomlin (Pittsburgh), DeMeco Ryans (Houston), and Todd Bowles (Tampa Bay) are the melanated trinity.
I thought Goodell said progress was taking place. Does it look like it to you? Maybe my eyesight is bad.
Last fall, the plaintiffs' lawyers were alleging racial bias against the NFL as the league wanted things to move to arbitration — where nobody can see. In court documents, the lawyers wrote that "arbitration would allow 'unconscionably biased one-sided 'kangaroo courts' to determine the outcome. If arbitration is where things land, it means that Goodell will be the arbitrator — which is in the best interest of the teams that are being sued, and the league. The latest development occurred last week when it was reported that the judge presiding over the case has requested that more written briefings about arbitration be submitted later in the month.
What does that mean?
That this thing is still in limbo, as we're waiting to see if this will play out in court or behind closed doors.
But, even if this arbitration decision does go the way of Brian Flores, Steve Wilks, and Ray Horton, we have no idea when the dust will finally settle — which is a win for the league. Because while the league might wind up losing this case, they have a winning strategy. Which is to ignore it, as everyone else did on a Wednesday afternoon in Glendale, Arizona.
Man United 2-2 Leeds LIVE! Sancho goal – Premier League result, match stream and latest updates today
S
ubstitute Jadon Sancho's first goal since September earned Manchester United a thrilling 2-2 draw with Leeds United in the Premier League on Wednesday as the hosts came back from two goals down to salvage a point.
Leeds flew out of the traps and stunned Old Trafford into silence after 55 seconds when Wilfried Gnonto arrowed the visitors in front from the edge of the penalty area.
The home side wasted a host of chances to level in the first half, before Leeds looked to have stormed into a match-winning position early in the second period as Raphael Varane put through his own net to double the visitors' advantage.
However, in-form Marcus Rashford headed the hosts back into the match in the 62nd minute and Sancho stepped off the bench to rescue his side a point eight minutes later, squeezing the ball past goalkeeper Illan Meslier.
Old Trafford sensed another rousing comeback would be completed with a late winner, but their side ran out of steam, failing to win at home for the first time in 14 matches in all competitions.
United stayed third in the standings, three points ahead of Newcastle United in fourth, having played one game more.
Managerless Leeds climbed one place to 16th, one point clear of the relegation zone.
United had beaten their Roses rivals Leeds by a scoreline of 11-3 in their previous two clashes at Old Trafford, and the visitors were on a seven-game Premier League winless streak which led to manager Jesse Marsch being sacked this week.
Their form made it all the more surprising when Leeds raced into an early lead, Gnonto netting the second-earliest goal scored by an away player at Old Trafford in the Premier League, after Edin Dzeko's strike in 2014 for Manchester City.
After De Gea denied Leeds a second with a smart stop at his near post, United twice went close to levelling as debutant Marcel Sabitzer volleyed over before Garnacho drilled just wide.
The chances kept coming for the home side, with Garnacho rounding Meslier before seeing an effort blocked and Sabitzer denied by a brilliant save.
The hosts' profligacy looked to have proved costly as Leeds appeared to be on course to secure a first win in 18 trips to Old Trafford after Varane was powerless to prevent Crysencio Summerville's cross rolling into his own net.
Rashford, however, had another ideas, steering a header home to become the first Manchester United player to score in six consecutive appearances at Old Trafford in the Premier League since Wayne Rooney in 2012.
Brenden Aaronson hit the post from a Leeds free kick, a let- off Manchester United capitalised on as Sancho, back in the squad after a lengthy absence due to physical and mental wellbeing issues, grabbed the equaliser with a calm finish.
Martin Bakole will look to enforce shot at Daniel Dubois | 'He's possibly the most avoided heavyweight out there' | Boxing News
Martin Bakole will look to force a shot at Daniel Dubois and the WBA 'regular' title that the London heavyweight holds.
Bakole's last outing was an impressive, conclusive win over French Olympic champion Tony Yoka from the away corner.
Born in Congo and now based in Scotland, Bakole has only lost once in his 19-bout professional career.
He is now rated at number two in the WBA's heavyweight world rankings and has signed to join new promoter BOXXER.
BOXXER's Ben Shalom told Sky Sports that Bakole intends to enforce a shot at Dubois.
"I think they're about to order a mandatory for Daniel, Martin wants that title. Martin is top of the tree in the WBA now," Shalom said.
"With his win against Tony Yoka, he was so impressive to go out and do that in Paris against a former Olympic champion. On the circuit he's possibly the most avoided heavyweight out there. Delighted to have him. I think he could challenge for world titles very soon."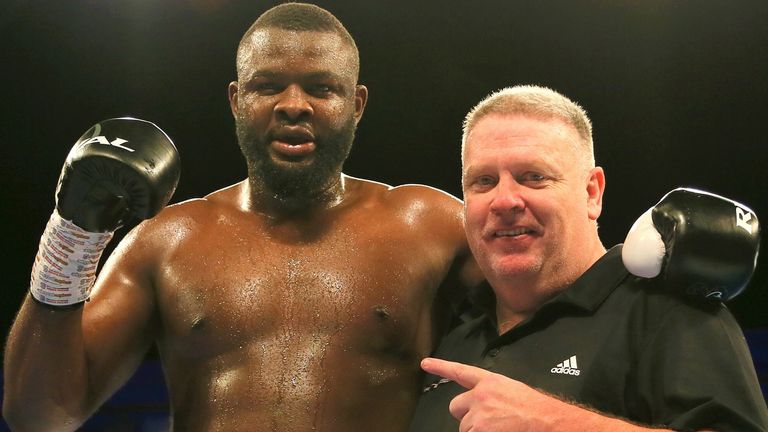 Oleksandr Usyk is the WBA's full world champion, but Dubois holds a secondary or 'regular' belt with that sanctioning body.
The Londoner is recovering from an injury he sustained in his last fight, a scare against Kevin Lerena. That though is the fight Bakole is gunning for.
"Martin backs himself in any fight in the heavyweight division. Daniel Dubois is on his list and Billy Nelson [Bakole's trainer] has been talking about him for a long time and they're ready to go," Shalom said.
"It's definitely that title that we have our eyes on. Obviously Daniel's injured at the moment. But luckily with Martin he will fight anyone. They could pick any name for him to fight for that title and he would take it.
"So we've got a very, very good heavyweight that's willing to fight anyone. That's a perfect mix."