US to seek Russia's suspension from Human Rights Council
"We believe that the members of the Russian forces committed war crimes in Ukraine, and we believe that Russia needs to be held accountable," Thomas-Greenfield said at a news conference in Romania's capital, Bucharest.
She called Russia's participation on the rights council a "farce" that "hurts the credibility of the council and the U.N. writ large" and is "simply wrong."
Ukraine's foreign minister, Dmytro Kuleba, said he spoke Monday with U.N. Secretary General Antonio Guterres about events in Bucha and tweeted: "No place for Russia on the UN Human Rights Council."
"Ukraine will use all available UN mechanisms to collect evidence and hold Russian war criminals to account," Kuleba said.
The 193-member U.N. General Assembly in New York has the final say, and any resolution to strip Russia of its membership rights would require support from two-thirds of member countries that vote.
Thomas-Greenfield told NPR the U.S. plans to seek a vote "as soon as possible this week, and possibly as early as Thursday."
She said her message was simple to the 140 assembly members who voted last month to condemn Russia's invasion of Ukraine: "The images out of Bucha and devastation across Ukraine require us now to match our words with action."
"We cannot let a member state that is subverting every principle we hold dear to continue to sit on the U.N. Human Rights Council," she said.
The 47-member council is the U.N.'s premier human rights body, and the General Assembly decies which states hold the seats.
Russia and the other four permanent members of the U.N. Security Council — Britain, China, France, and the United States — all currently have seats on the rights council, which the U.S. rejoined this year.
In New York, General Assembly spokeswoman Paulina Kubiak said Monday that no request for a meeting on the issue had yet been received.
Russia's ambassador in Geneva shot back by calling the U.S. statement "(b)aseless, unfounded and purely emotional bravado that looks good on camera — just how the US likes it."
"Washington exploits the Ukrainian crisis for its own benefit in an attempt either to exclude or suspend Russia from international organizations, including the HRC here in Geneva," Gennady Gatilov said, in comments relayed by a Russian diplomatic mission spokesman.
The only country to have its membership rights stripped at the council was Libya in 2011, when upheaval in the North African country brought down longtime leader Moammar Gadhafi, said council spokesman Rolando Gomez. The council started work in 2006.
No permanent member of the security council has ever had its membership revoked from any U.N. body.
Referring to the General Assembly, Gatilov said the U.S. effort "is unlikely to be supported by the majority of its member states."
Ukrainian officials said the bodies of 410 civilians were found in Bucha and other towns around Kyiv that have been recaptured from Russian forces in recent days.
Thomas-Greenfield said she would go to the Security Council on Tuesday on her return to New York to "address Russia's actions firmly and directly."
She mentioned the U.S. plan during a bilateral meeting with Romanian Prime Minister Nicolae Ciuca, whose government she praised for its "extraordinary effort" in receiving hundreds of thousands of refugees from Ukraine. More than 600,000 refugees have fled to safety in Romania since Russia launched its invasion.
Thomas-Greenfield also visited the Romanian capital's main train station, where she met with humanitarian workers helping to receive refugees.
Her visit to Romania came a day after she met with leaders in Chisinau, Moldova's capital, where she announced that the U.S. will provide $50 million (45 million euros) "to help the Government of Moldova and its people cope with the impacts of Russia's brutal and unprovoked war."
Moldova, a former Soviet republic with a population of around 2.6 million, has so far received around 400,000 refugees from war-torn Ukraine. The $50 million assistance is in addition to more than $30 million the U.S. has provided Moldova for its humanitarian efforts during the crisis.
Keaten reported from Geneva. Associated Press writer Edith M. Lederer at the United Nations contributed to this report.
Follow the AP's coverage of the war at https://apnews.com/hub/russia-ukraine
Former New Zealand rugby player Johnstone becomes first All Black to come out as gay
Andrew Carnegie Medal for Excellence awarded to Julie Otsuka, Ed Yong
Novelist Julie Otsuka has strong memories of libraries from her childhood California — the bike rides with her best friend to the local branch; the soft, firm sound of librarians closing books; the shopping bags she and her friend would fill with science fiction and other stories.
"It seemed like I lived at the library," she says. "I felt very free to explore there, and explore away from adult eyes."
The library community also has warm feelings about Otsuka. Her novel "The Swimmers," in which a group of swimmers collectively narrate their daily routines and what happens when those routines are disrupted, has won the Andrew Carnegie Medal for Excellence in Fiction, a $5,000 honor presented by the American Library Association. Ed Yong's "An Immense World: How Animal Senses Reveal the Hidden Realms Around Us" won the nonfiction medal, which also comes with a $5,000 cash prize.
CARNEGIE HERO FUND COMMISSION ANNOUNCES 20 MEDAL WINNERS
"Julie Otsuka proves herself a master of narrative voice, thrillingly balancing the incredible vitality of community life with the myriad challenges faced by individuals and families within that community," Stephen Sposato, chair of the medals' selection committee, said in a statement released Sunday.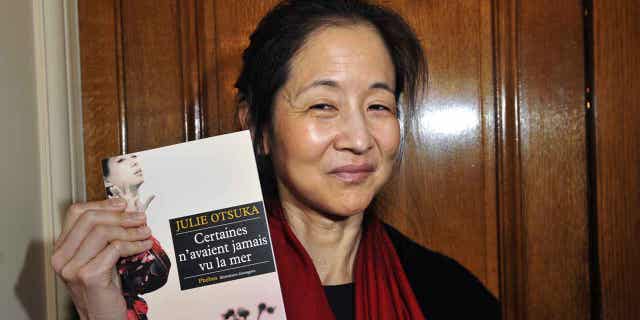 "And, standing out even during a recent golden age of nature writing, Ed Yong dazzles with a deeply considered exploration of the many modes of sensory perception that life has evolved to navigate the world, written with exhilarating freshness."
COLSON WHITEHEAD NOVEL A CARNEGIE MEDAL FINALIST
Otsuka, 60, has also written the novels "The Buddha in the Attic," winner of the PEN/Faulkner award in 2011; and "When the Emperor Was Divine." Her other honors include a Guggenheim Fellowship and an Arts and Letters Award in Literature from the American Academy of Arts and Letters.
The 41-year-old Yong, a native of Malaysia who emigrated to the United Kingdom in his teens, is a staff writer for The Atlantic. He won a Pulitzer Prize in 2021 for his reporting on the coronavirus pandemic. Like Otsuka, Yong was influenced early by libraries. "Strangely enough for indoor spaces, libraries for me were gateways to the natural world," he told The Associated Press. "As a kid, I spent a lot of time reading books that expanded my knowledge — and love — of nature, and I can only hope that 'An Immense World' does the same for people today."
CLICK HERE TO GET THE FOX NEWS APP 
The Carnegie Medals were established in 2012, with help from a grant from the Carnegie Corporation of New York. Previous winners include James McBride, Doris Kearns Goodwin and Matthew Desmond.
Teacher accused of abuse at Edinburgh schools arrested


Man accused of abuse by BBC broadcaster Nicky Campbell set to appear in court in South Africa.



Source link