UN authorizes new AU mission in Somalia to combat extremists
While the resolution adopted by the council recognizes significant changes in the security situation since it authorized AMISOM in February 2007 and improvements in Somalia's capability to respond to security challenges, it also reaffirms "the need to combat terrorist threats by all means."
Only in the past few years has Somalia begun to find its footing after three decades of chaos from warlords to the al-Qaida-linked al-Shabab extremist group and the emergence of Islamic State-linked extremist groups. Last year, a political crisis further postponed long-delayed elections and lower house elections which were to be completed on March 15 are still not complete, further delaying the vote for a new president.
The British-drafted resolution authorizes the new ATMIS mission to support the Somali forces "in providing security for the political process at all levels."
The Security Council underscored that completing the electoral process without further delay and achieving "a peaceful transition of power" will help Somalia move ahead with its national priorities and support its 2021 transition plan which outlines steps toward the gradual handover of responsibilities for security from international forces to the government.
The council reiterated its objective "of enabling Somalia to take full responsibility for its own security, including through assuming the leading role in countering and addressing the threat posed by al-Shabab."
The resolution authorizes ATMIS to conduct jointly planned operations with Somali security forces "to degrade al-Shabab and affiliates linked to ISIL," an acronym for the Islamic State group.
The council authorized AU member nations to deploy up to 19,626 uniformed personnel, including a minimum of 1.040 police, until Dec. 31, and endorsed the AU Peace and Security Council's decision to reduce the peacekeeping force by 2,000 by that date. It authorized a reduced force of 17,626 between Jan. 1 and March 31, 2023, and noted that a joint proposal including the AU and Somalia envisions further cuts to 14,626 in September 2023, 10,626 in June 2024 and "zero personnel" by the end of December 2024.
The resolution welcomes the Somali government's intention to generate 3,850 new security forces by December 2022, 8,525 new forces by September 2023 and 10,450 new forces by June 2024.
AMISOM was funded by voluntary contributions, especially from the European Union, with logistical support from the United Nations. The Security Council urged U.N. member nations, including new donors, "to consider providing predictable, sustainable and multi-year support for ATMIS."
After the vote, Britain's deputy U.N. ambassador James Kariuki thanked council members for their support "in the adoption of this landmark resolution."
U.S. deputy ambassador Richard Mills said the resolution "provides a vital opportunity to build on AMISOM's efforts and take the next steps to roll back al-Shabaab, enabling Somalia to provide the security and stability required for the Somali people to achieve their aspirations."
"Al-Shabab is a formidable and adaptable threat to Somalia, and to East Africa more broadly," he said. "As al-Qaeda's largest and best financed affiliate, al-Shabab represents a threat that requires a vigorous and broad-based response. The ATMIS mandate provides the opportunity to adapt and reinvigorate the African-led, international effort against al-Shabab."
Albania's political coordinator Arian Spasse noted al-Shabab's increased attacks on security forces and civilians in recent months and called on the government again to complete elections.
"It is crucial the newly elected government turn its focus to the deteriorating security situation, to the undertaking of reforms, and to the humanitarian crisis caused by the unprecedented droughts, which is plunging the population into another famine," he said. "Further delays will give al-Shabaab more time to overshadow the government's effort to provide peace and prosperity, and will fuel al-Shabab propaganda as an alternative to a democratically elected government."
Somalia's U.N. Ambassador Abukar Osman expressed disappointment that the council's resolution didn't provide more funding for its security forces, address the need for a unified and centralized command for ATMIS, and greater logistical support
Addressing these issues will ensure that the resolution is aligned with Somalia's strategic document on security, he said.
Landmark national security trial of Hong Kong democracy activists begins. Here's what you need to know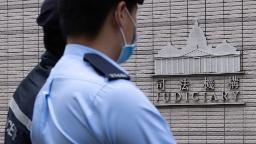 Some were seasoned politicians and veteran protest leaders. Others were academics, unionists and health care workers. They hailed from different generations and held a range of political views, but were brought together by what they say was a shared commitment to Hong Kong's democratic future.



Source link
Texas deputies stop driver hauling 13 illegal immigrants wearing camouflage clothing
Deputies in Zavala County, Texas, caught nearly two dozen illegal immigrants during four separate traffic stops early Sunday, including 13 migrants smuggled in a pickup truck while cloaked in camouflage clothing, authorities said.
In total, the sheriff's office said it apprehended 22 illegal immigrants, while 10 others fled after bailing from the vehicles.
In one case, the sheriff's office said a deputy stopped a black Chevy pickup for a traffic violation on U.S. 57 east of La Pryor. As the deputy went to speak with the driver, he spotted multiple individuals wearing camouflage clothing lying in the bed of the truck.
The deputy then found more individuals inside the vehicle with the driver, who claimed they were all her cousins, according to officials.
ARIZONA BORDER PATROL: MAN TAKES OFF ON HORSEBACK AFTER SMUGGLING ILLEGAL IMMIGRANTS INTO US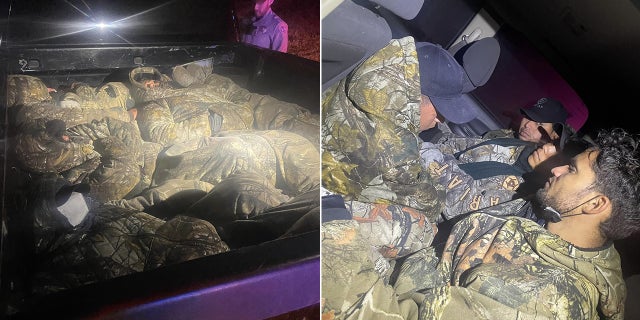 The driver, Samantha Renee Dela Fuente of San Antonio, was charged with smuggling, FOX29 San Antonio reported. Officials said the 13 undocumented individuals were turned over to Uvalde Border Patrol.
In a second incident, a deputy pulled over a Chrysler van for a traffic violation. When the deputy exited his cruiser to approach the vehicle, it sped away and prompted a short pursuit.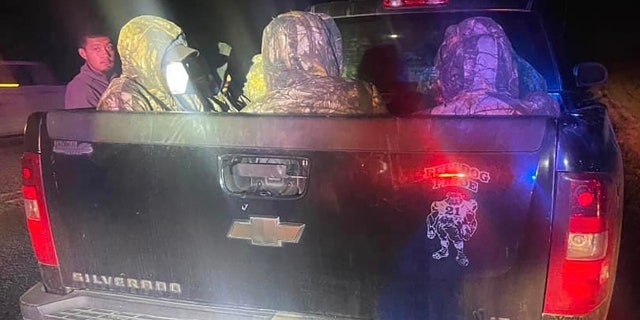 The driver eventually bailed, and three illegal immigrants were apprehended. Deputies said five other undocumented individuals had fled the scene.
PATROL AGENTS TO TESTIFY AT BORDER CRISIS HEARING, AS HOUSE REPUBLICANS PUSH TO IMPEACH DHS SEC MAYORKAS
Deputies said two other illegal immigrants were found hidden in the back of an SUV during a traffic stop on U.S. 57 east of Batesville. The driver had bailed and fled.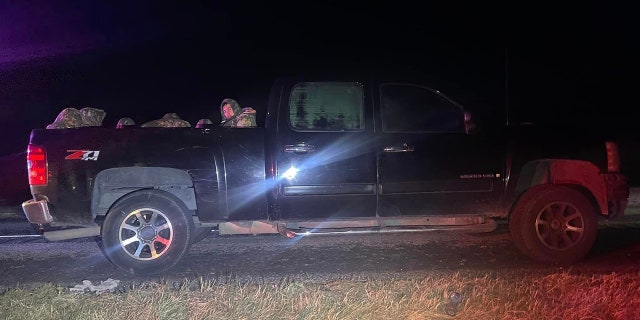 A fourth traffic stop on a blue Chevy Malibu resulted in another short chase until the driver and other individuals bailed from the vehicle into the brush at the West Wind Ranch, the sheriff's office said.
Deputies apprehended three individuals while about five other suspected illegal immigrants escaped.
All the apprehended illegal immigrants were turned over to Border Patrol, the sheriff's office said.
Britishvolt: UK battery start-up set to be bought by Australian firm
Building this battery plant is seen as absolutely vital to securing the future of UK car manufacturing. But the last time an ambitious start-up, with unproven technology led by people unheard of in the battery and car world, attempted this it ended up in the spectacular failure of Britishvolt, which collapsed into administration last month.