U.S. Will Help Transfer Soviet-Made Tanks to Ukraine
WASHINGTON — The Biden administration will work with allies to transfer Soviet-made tanks to bolster Ukrainian defenses in the country's eastern Donbas region, a U.S. official said on Friday.
The decision to act as an intermediary to help transfer the Soviet-made tanks, which Ukrainian troops know how to use, comes in response to a request from President Volodymyr Zelensky of Ukraine, the official said. It marks the first time in the war that the United States has helped transfer tanks.
The official said the transfers would begin soon, but declined to say how many tanks would be sent, or from which countries they would come. They will allow Ukraine to conduct long-range artillery strikes on Russian targets in Donbas, said the official, who spoke on the condition of anonymity because he was not authorized to speak publicly.
The tanks' arrival could be another signal of a new phase in the war, which is five weeks old and has been dominated by Russian attacks on Ukrainian cities and installations from the air, and a stalled Russian advance on the ground. Earlier this week, Russian officials indicated that they were refocusing their efforts on eastern Ukraine, where Russian-backed separatists have been fighting Ukrainian soldiers since 2014.
Mr. Zelensky called on Sunday for NATO allies to provide tanks and planes, in addition to the antitank and antiaircraft weaponry that have become a staple of the arms transfers to Ukraine from the West. Frustrated at what he views as a slow pace of weapons transfers, Mr. Zelensky asked specifically for tanks, in remarks a day after President Biden met with senior Ukrainian officials in Poland.
An angry Mr. Zelensky criticized the West for what he called its "Ping-Pong" about weapons transfers. "I've talked to the defenders of Mariupol today," he said, in a reference to the besieged city that has been under an onslaught from Russia for four weeks. "If only those who have been thinking for 31 days on how to hand over dozens of jets and tanks had 1 percent of their courage."
In the past, the Biden administration has taken pains to call the weapons it is providing to Ukraine defensive, and has focused on smaller, easily portable arms. But as the war has progressed, the definition of defensive has become more elastic.
Ukraine had already found one source of tanks, capturing at least 161 from Russia on the battlefield, according to the military analysis site Oryx, though Russia has also destroyed a number of Ukrainian tanks. For its part, Russia has captured 43 Ukrainian tanks, according to analysts who study photos and videos on social media.
The decision to help transfer the tanks comes as the Ukrainian military has continued to turn back Russia's ground advance. Pentagon officials have been quick to point out that Russia's pivot to Donbas and away from capturing Kyiv, the capital, might be a necessity for Moscow after Russian forces stalled out in the central part of the country.
On Wednesday, Biden administration officials, citing declassified U.S. intelligence, said that President Vladimir V. Putin of Russia had been misinformed by his advisers about the Russian military's problems in Ukraine. The intelligence, American officials said, also showed what appeared to be growing tension between Mr. Putin and his defense minister, Sergei K. Shoigu, who was once among the most trusted members of the Kremlin's inner circle.
Russian officials have disputed the allegations, with the Kremlin on Thursday calling it a "complete misunderstanding" of the situation that could have "bad consequences."
Former New Zealand rugby player Johnstone becomes first All Black to come out as gay
Andrew Carnegie Medal for Excellence awarded to Julie Otsuka, Ed Yong
Novelist Julie Otsuka has strong memories of libraries from her childhood California — the bike rides with her best friend to the local branch; the soft, firm sound of librarians closing books; the shopping bags she and her friend would fill with science fiction and other stories.
"It seemed like I lived at the library," she says. "I felt very free to explore there, and explore away from adult eyes."
The library community also has warm feelings about Otsuka. Her novel "The Swimmers," in which a group of swimmers collectively narrate their daily routines and what happens when those routines are disrupted, has won the Andrew Carnegie Medal for Excellence in Fiction, a $5,000 honor presented by the American Library Association. Ed Yong's "An Immense World: How Animal Senses Reveal the Hidden Realms Around Us" won the nonfiction medal, which also comes with a $5,000 cash prize.
CARNEGIE HERO FUND COMMISSION ANNOUNCES 20 MEDAL WINNERS
"Julie Otsuka proves herself a master of narrative voice, thrillingly balancing the incredible vitality of community life with the myriad challenges faced by individuals and families within that community," Stephen Sposato, chair of the medals' selection committee, said in a statement released Sunday.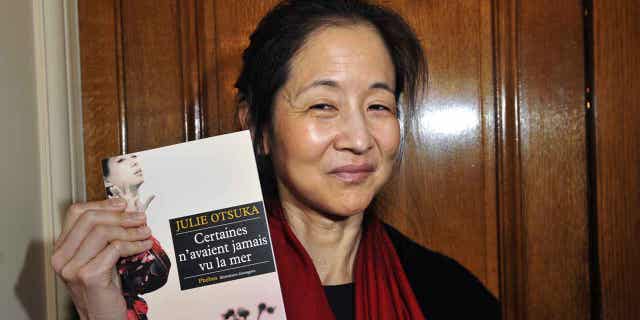 "And, standing out even during a recent golden age of nature writing, Ed Yong dazzles with a deeply considered exploration of the many modes of sensory perception that life has evolved to navigate the world, written with exhilarating freshness."
COLSON WHITEHEAD NOVEL A CARNEGIE MEDAL FINALIST
Otsuka, 60, has also written the novels "The Buddha in the Attic," winner of the PEN/Faulkner award in 2011; and "When the Emperor Was Divine." Her other honors include a Guggenheim Fellowship and an Arts and Letters Award in Literature from the American Academy of Arts and Letters.
The 41-year-old Yong, a native of Malaysia who emigrated to the United Kingdom in his teens, is a staff writer for The Atlantic. He won a Pulitzer Prize in 2021 for his reporting on the coronavirus pandemic. Like Otsuka, Yong was influenced early by libraries. "Strangely enough for indoor spaces, libraries for me were gateways to the natural world," he told The Associated Press. "As a kid, I spent a lot of time reading books that expanded my knowledge — and love — of nature, and I can only hope that 'An Immense World' does the same for people today."
CLICK HERE TO GET THE FOX NEWS APP 
The Carnegie Medals were established in 2012, with help from a grant from the Carnegie Corporation of New York. Previous winners include James McBride, Doris Kearns Goodwin and Matthew Desmond.
Teacher accused of abuse at Edinburgh schools arrested


Man accused of abuse by BBC broadcaster Nicky Campbell set to appear in court in South Africa.



Source link