So what will MLS do about its TV ratings?
When setting up for the current MLS season, which started the last weekend of February, one of the major themes was the league locking in its new TV deal sometime in March. MLS's TV deal has been paltry when compared to the other sports leagues ($90m a year), and there was a feeling that while the new one still wouldn't get them into the same neighborhood as even the NHL, it would at least allow them to be in the same area code.
Well, we're in April now, and all is quiet on the western front. Three weeks ago, Sam Stejskal of The Athletic went in depth about where negotiations were, and they didn't sound good. Turner has shown passing interest, ESPN wasn't any more passionate about it, Fox seemed to be completely disinterested even though they'll be televising the World Cup, and Apple was sniffing around. The possible total money being tossed around was way short of what the league had been hoping for, more like $150-$200 million instead of the $300 million they had wanted.
The major reason is that MLS' TV ratings suck shit. There's really no way around that.
For example, last Saturday's "El Traffico" derby between the Galaxy and LAFC drew a 0.10 rating on regular Fox and 477,000 people watched it, according to ShowBuzzDaily.com. Getting a game on a major network is not to be sneezed at, and maybe not something you would have seen even three years ago. But for comparison's sake, Sunday's Man City-Liverpool match on USA Network drew a 0.40 rating and was watched by over a million people. It's not a totally fair comparison, as that was the biggest Premier League match in some time, but it's also still a network vs. cable set-up that the MLS's biggest match on the calendar got domed in.
Meanwhile, MLS' other national broadcasts this past weekend on cable — Inter Miami vs. New England on ESPN on Saturday and Charlotte vs. Atlanta on Sunday on ESPN as well — didn't even register on the top 40 programs. Chelsea's win at Southampton on Saturday morning brought in 407K viewers, and Manchester United-Everton brought in 330K even though it was on at 7:30 a.m. Eastern. The Liga MX match between Toluca and Chivas on Saturday night brought in 328K. MLS broadcasts have regularly come in at the 200K viewer mark, give or take. This has been the story all season, and really for the past few years.
So what's the problem?
The first one is that MLS is in the unique position in the US of not being the best league in the world in its sport. Every other one in this country, fans can be assured they're seeing the best product anywhere with the best players. That is very much not the case with MLS, and it seems even casual fans know it. After spending the morning having the Premier League just as accessible, and Serie A, Bundesliga, and La Liga a click away on streaming channels, it would appear fans just don't want to do the gear change in the afternoon or night for Minnesota United and the Rapids. This is a national sporting fandom that has only been brought up on the best.
MLS is not going to be able to change that anytime soon, and probably never. And while the exporting of US stars to Europe is good for the players and flushes the league with transfer cash, it won't do much for the perception from the casual fan that MLS is only a stepping stone.
Second, MLS faces similar problems that the NHL does, in that it's an extremely parochial fan experience. Fans are really only interested in watching their teams, and don't really care much for Stars-Jets on a Wednesday night. That's why NBC was always crowbarring the Hawks or Rangers or Penguins or Flyers onto their national TV schedules, because they had the largest fan bases.
Same goes for MLS. Orlando FC might have a passionate fanbase, but that doesn't mean they want to watch Portland when they get home on Sunday evening. And much like hockey, MLS hasn't really been able to create household stars that people tune in to see regardless of location or team. But unlike the NHL, part of that is a lot of the candidates have left the league altogether.
MLS will always struggle to compete with Liga MX on TV, given the latter's roots with their fans that have been built over generations. The Leagues Cup that starts next year, a combined tournament between Liga MX and MLS teams, was supposed to address that and get MLS in front of eyes that only watch Liga MX. It was also supposed to be awfully attractive to TV providers, hoping to crack into the ratings the Mexican league gets. But that hasn't proven to be the case, as the Spanish-language rights are basically promised to Univision and just the English-language rights haven't really wooed anyone.
There are smaller problems. Most fans know that the MLS regular season doesn't really mean much. 14 teams make the playoffs and the urgency goes out of games but for a handful of teams around the cutline somewhere around June. There are local rivalries that can entice during the season, but MLS can't throw up a "title decider" like other leagues until its actual title decider of MLS Cup at the end of the playoffs. It all becomes scenery after a while.
And MLS will always face competition. Its spring-summer-fall season sees it navigating the NCAA tournament, NBA and NHL playoffs as it's getting started and revved up, a brief period where it's just MLS and MLB, and then the NFL starts and everything gets stomped on. Switching to a European calendar wouldn't much alleviate this, and MLS has always made a face when it's been suggested. Same with a single-table, no playoff system for determining a champion that fans see in the rest of the world that would give a season urgency. And don't even say the word "relegation."
It's a copout to get this deep into an article and then say they're basically fucked. But players are going to continue to chase Euros if they can, the league still needs that transfer money (especially if you buy into the Ponzi scheme theory, and expansion is drying up). Fans will always know the difference. With the league not really ready to undertake something radical, this is kind of where they are. It's strange that in a country where interest in the sport continues to grow, one of its domestic leagues can't seem to take advantage.
And looking at MLS's sister competition, the NWSL, the quality argument seems to be the main one. Just last week, the Challenge Cup match between San Diego Wave and Angel City on CBS proper drew in 456K viewers. And that's basically a preseason game. But NWSL fans know when they tune in they're seeing just about the best product available (we can have the WSL and their expanding checkbook debate another time) with players they recognize from World Cups and the Olympics.
Still, if fans are more drawn to the product around the world, maybe MLS should think about making theirs look like the rest of the world. That's harder to do with soon-to-be 29 teams and maybe even 30, but fans have clearly stated what it is they like. But even then, soccer as a whole remains a niche sport with a niche fandom. And it will probably be a while before that changes.
No mention of Flores' lawsuit in Goodell Super Bowl presser
Every year at the Super Bowl, journalists get a chance to ask NFL Commissioner Roger Goodell the questions that need to be answered on live television as the world watches. This year, the inquiries and subject matters ranged from two Black quarterbacks making history, Damar Hamlin, officiating, and the potential ways that the league will broadcast upcoming games. But, the Black cloud — no pun intended — that's been hovering over the NFL for over a year wasn't mentioned once on Wednesday. And it's proof that the NFL is loving the fact that people seem to have forgotten that Brian Flores, Steve Wilks, and Ray Horton have an ongoing class-action lawsuit against the league for its alleged racist hiring practices.
Distractions are part of the game
It's been over a year since the former Miami Dolphins head coach — and current defensive coordinator for the Minnesota Vikings — dropped a bomb on the sports world when he decided that legal action was the only way to make people thoroughly understand just how rigged the game is for Black coaches in the NFL.
"It's hard to speak out…but this is bigger than football. This is bigger than coaching," said Flores.
Days later, Goodell was on stage answering questions at the Super Bowl about that, and more.
"I think I'd start with the basis that racism or any form of discrimination is against our values. And really something that we will not tolerate," he said at last year's press conference.
G/O Media may get a commission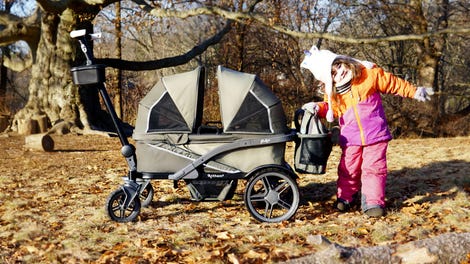 30% off
The Anthem All-Terrain Stroller Wagon Adventure Bundle
Go everywhere with your kids
This must-have bundle nets you either of Gladly's award-winning Anthem2 or Anthem4 All-Terrain Stroller Wagons as well as must-have accessories like a parent cupholder, a removable storage basket, extra-large canopies, a nap system, quilted comfort seats, a cooler bag with a padded shoulder strap, and a travel bag.
Same as it ever was
On Wednesday, it was more of the same. "I do, but I still feel like there's better work, and more work ahead of us," Goodell said about the "meaningful progress" that's taken place with diversity amongst head coaches. "I think that there is progress, and we're pleased to see progress. But it's never enough."
A lot has happened since Goodell took the stage last year in Los Angeles and when he returned to it in Arizona. For instance, Steve Wilks and Ray Horton joined Flores' lawsuit. Flores spent last season as an assistant with the Pittsburgh Steelers, and he's now with the Vikings — as an assistant, again. Wilks was the interim head coach of the Carolina Panthers, but due to the history of the men who carry that title with his skin color, he never had a chance of permanently landing the job — no matter if Panthers owner David Tepper is claiming to be trying to eradicate the league's "old boys network." Horton is coaching in the USFL. And you can still count the number of African-American head coaches in the league on one hand and have some fingers left to spare, as Mike Tomlin (Pittsburgh), DeMeco Ryans (Houston), and Todd Bowles (Tampa Bay) are the melanated trinity.
I thought Goodell said progress was taking place. Does it look like it to you? Maybe my eyesight is bad.
Last fall, the plaintiffs' lawyers were alleging racial bias against the NFL as the league wanted things to move to arbitration — where nobody can see. In court documents, the lawyers wrote that "arbitration would allow 'unconscionably biased one-sided 'kangaroo courts' to determine the outcome. If arbitration is where things land, it means that Goodell will be the arbitrator — which is in the best interest of the teams that are being sued, and the league. The latest development occurred last week when it was reported that the judge presiding over the case has requested that more written briefings about arbitration be submitted later in the month.
What does that mean?
That this thing is still in limbo, as we're waiting to see if this will play out in court or behind closed doors.
But, even if this arbitration decision does go the way of Brian Flores, Steve Wilks, and Ray Horton, we have no idea when the dust will finally settle — which is a win for the league. Because while the league might wind up losing this case, they have a winning strategy. Which is to ignore it, as everyone else did on a Wednesday afternoon in Glendale, Arizona.
Man United 2-2 Leeds LIVE! Sancho goal – Premier League result, match stream and latest updates today
S
ubstitute Jadon Sancho's first goal since September earned Manchester United a thrilling 2-2 draw with Leeds United in the Premier League on Wednesday as the hosts came back from two goals down to salvage a point.
Leeds flew out of the traps and stunned Old Trafford into silence after 55 seconds when Wilfried Gnonto arrowed the visitors in front from the edge of the penalty area.
The home side wasted a host of chances to level in the first half, before Leeds looked to have stormed into a match-winning position early in the second period as Raphael Varane put through his own net to double the visitors' advantage.
However, in-form Marcus Rashford headed the hosts back into the match in the 62nd minute and Sancho stepped off the bench to rescue his side a point eight minutes later, squeezing the ball past goalkeeper Illan Meslier.
Old Trafford sensed another rousing comeback would be completed with a late winner, but their side ran out of steam, failing to win at home for the first time in 14 matches in all competitions.
United stayed third in the standings, three points ahead of Newcastle United in fourth, having played one game more.
Managerless Leeds climbed one place to 16th, one point clear of the relegation zone.
United had beaten their Roses rivals Leeds by a scoreline of 11-3 in their previous two clashes at Old Trafford, and the visitors were on a seven-game Premier League winless streak which led to manager Jesse Marsch being sacked this week.
Their form made it all the more surprising when Leeds raced into an early lead, Gnonto netting the second-earliest goal scored by an away player at Old Trafford in the Premier League, after Edin Dzeko's strike in 2014 for Manchester City.
After De Gea denied Leeds a second with a smart stop at his near post, United twice went close to levelling as debutant Marcel Sabitzer volleyed over before Garnacho drilled just wide.
The chances kept coming for the home side, with Garnacho rounding Meslier before seeing an effort blocked and Sabitzer denied by a brilliant save.
The hosts' profligacy looked to have proved costly as Leeds appeared to be on course to secure a first win in 18 trips to Old Trafford after Varane was powerless to prevent Crysencio Summerville's cross rolling into his own net.
Rashford, however, had another ideas, steering a header home to become the first Manchester United player to score in six consecutive appearances at Old Trafford in the Premier League since Wayne Rooney in 2012.
Brenden Aaronson hit the post from a Leeds free kick, a let- off Manchester United capitalised on as Sancho, back in the squad after a lengthy absence due to physical and mental wellbeing issues, grabbed the equaliser with a calm finish.
Martin Bakole will look to enforce shot at Daniel Dubois | 'He's possibly the most avoided heavyweight out there' | Boxing News
Martin Bakole will look to force a shot at Daniel Dubois and the WBA 'regular' title that the London heavyweight holds.
Bakole's last outing was an impressive, conclusive win over French Olympic champion Tony Yoka from the away corner.
Born in Congo and now based in Scotland, Bakole has only lost once in his 19-bout professional career.
He is now rated at number two in the WBA's heavyweight world rankings and has signed to join new promoter BOXXER.
BOXXER's Ben Shalom told Sky Sports that Bakole intends to enforce a shot at Dubois.
"I think they're about to order a mandatory for Daniel, Martin wants that title. Martin is top of the tree in the WBA now," Shalom said.
"With his win against Tony Yoka, he was so impressive to go out and do that in Paris against a former Olympic champion. On the circuit he's possibly the most avoided heavyweight out there. Delighted to have him. I think he could challenge for world titles very soon."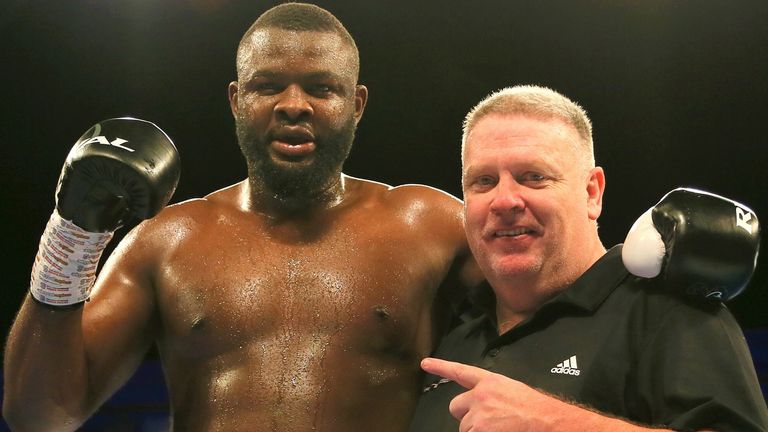 Oleksandr Usyk is the WBA's full world champion, but Dubois holds a secondary or 'regular' belt with that sanctioning body.
The Londoner is recovering from an injury he sustained in his last fight, a scare against Kevin Lerena. That though is the fight Bakole is gunning for.
"Martin backs himself in any fight in the heavyweight division. Daniel Dubois is on his list and Billy Nelson [Bakole's trainer] has been talking about him for a long time and they're ready to go," Shalom said.
"It's definitely that title that we have our eyes on. Obviously Daniel's injured at the moment. But luckily with Martin he will fight anyone. They could pick any name for him to fight for that title and he would take it.
"So we've got a very, very good heavyweight that's willing to fight anyone. That's a perfect mix."