San Marino becomes first country in the world with LGBT+ head of state
San Marino has reportedly become the first country in the world to elect an openly LGBT+ head of state.
Paolo Rondelli has been chosen as one of the small European country's two "captains regent," who will lead San Marino for the next six months, alongside Oscar Mina.
The 58-year-old said on Facebook that he will "probably be the first head of state belonging to the LGBT community".
Marco Tonti — head of the Arcigay association in Emilia-Romagna where San Marino is located — hailed it as "a historic event".
"He is the first openly gay head of state and activist for the rights of the LGBT community," Tonti said.
"There are precedents among heads of government and ministers but this is a world-first for a head of state."
Luxembourg's Xavier Bettel and Serbia's Ana Brnabić are two current examples of LGBT prime ministers in Europe.
Several Italian politicians took part in the ceremony of the two Captains Regent on Friday, including Senator and LGBT activist Monica Cirinnà.
"Paolo [Rondelli] is a man of immense culture and great diplomatic and political experience," Cirinnà said on Facebook.
"He fought for the rights of women and LGBT+ people, in San Marino and not only," she added.
"It's a historic day, that fills me with joy and pride, because Paolo Rondelli will be the first head of the State belonging to the LGBT+ community, not only in San Marino but in the world."
San Marino — a microstate of just 34,000 people — is landlocked within the Italian region of Emilia Romagna.
The country's two "captains regent" preside over the nations' Grand General Council, the legislative body that elects them every six months.
Former New Zealand rugby player Johnstone becomes first All Black to come out as gay
Andrew Carnegie Medal for Excellence awarded to Julie Otsuka, Ed Yong
Novelist Julie Otsuka has strong memories of libraries from her childhood California — the bike rides with her best friend to the local branch; the soft, firm sound of librarians closing books; the shopping bags she and her friend would fill with science fiction and other stories.
"It seemed like I lived at the library," she says. "I felt very free to explore there, and explore away from adult eyes."
The library community also has warm feelings about Otsuka. Her novel "The Swimmers," in which a group of swimmers collectively narrate their daily routines and what happens when those routines are disrupted, has won the Andrew Carnegie Medal for Excellence in Fiction, a $5,000 honor presented by the American Library Association. Ed Yong's "An Immense World: How Animal Senses Reveal the Hidden Realms Around Us" won the nonfiction medal, which also comes with a $5,000 cash prize.
CARNEGIE HERO FUND COMMISSION ANNOUNCES 20 MEDAL WINNERS
"Julie Otsuka proves herself a master of narrative voice, thrillingly balancing the incredible vitality of community life with the myriad challenges faced by individuals and families within that community," Stephen Sposato, chair of the medals' selection committee, said in a statement released Sunday.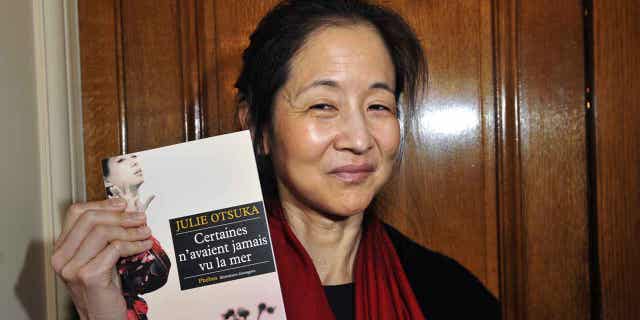 "And, standing out even during a recent golden age of nature writing, Ed Yong dazzles with a deeply considered exploration of the many modes of sensory perception that life has evolved to navigate the world, written with exhilarating freshness."
COLSON WHITEHEAD NOVEL A CARNEGIE MEDAL FINALIST
Otsuka, 60, has also written the novels "The Buddha in the Attic," winner of the PEN/Faulkner award in 2011; and "When the Emperor Was Divine." Her other honors include a Guggenheim Fellowship and an Arts and Letters Award in Literature from the American Academy of Arts and Letters.
The 41-year-old Yong, a native of Malaysia who emigrated to the United Kingdom in his teens, is a staff writer for The Atlantic. He won a Pulitzer Prize in 2021 for his reporting on the coronavirus pandemic. Like Otsuka, Yong was influenced early by libraries. "Strangely enough for indoor spaces, libraries for me were gateways to the natural world," he told The Associated Press. "As a kid, I spent a lot of time reading books that expanded my knowledge — and love — of nature, and I can only hope that 'An Immense World' does the same for people today."
CLICK HERE TO GET THE FOX NEWS APP 
The Carnegie Medals were established in 2012, with help from a grant from the Carnegie Corporation of New York. Previous winners include James McBride, Doris Kearns Goodwin and Matthew Desmond.
Teacher accused of abuse at Edinburgh schools arrested


Man accused of abuse by BBC broadcaster Nicky Campbell set to appear in court in South Africa.



Source link