Longtime Hawks radio voice Pat Foley calling it a career
The generations of sports fans who grew up learning and loving a sport and team through the radio are disappearing these days. Another one came to a close on Thursday night in Chicago, though this one was a little different. We were a group out of place and time, which we came to identify ourselves by.
Pat Foley, longtime play-by-play man for the Chicago Blackhawks, announced his last game on Thursday. He was in the role, either on radio or television or both, for 39 of the past 41 years. That two-year gap tells its own story, and I'll get to it. Foley became synonymous with the Hawks here in town, and for many of us in my generation of Hawks fans, he was the gateway.
It's not enough to simply say he was the voice of the Hawks, because that doesn't encapsulate all that he meant. He wasn't just the announcer whose calls we can hear in our memories at a moment's notice. Foley also symbolized the Hawks' decades-long mismanagement, mistreatment, and downright incompetence that both he and we as fans had to overcome to be fans and enjoy ourselves (not much has changed sadly, based on the past few months). In so many ways, Foley was one of us.
For those outside of the city, and unfamiliar with the tale, Hawks home games weren't on TV until 2008. If you didn't know, that might sound like the dumbest thing you've ever heard, because it was. But previous owner Bill Wirtz was an ardent believer in the "Why would they buy the cow if they get the miik for free," theory of business, and kept the games off TV to protect season ticket holders. Seriously.
So for every generation of Hawks fan until this latest one, we had to consume half our games through the radio, much like baseball fans of yesteryear. And because Wirtz was also unfathomably cheap, there weren't separate radio and TV broadcast teams. Foley and partner Dale Tallon did both, with the TV coverage simulcasted on the radio when the Hawks were on the road and they both were the radio broadcast when they were home. Foley was the only voice we knew, and when he and Tallon were on TV broadcasting from Joe Louis Arena or the Checkerdome, it always felt a little like some sort of inmates had escaped and were taking over something they definitely should not have been in charge of.
Again, Foley was one of us, literally. It was as if the Hawks had just plucked some fan out of the second deck of the old Chicago Stadium and put him behind a mic, because they basically did. Foley was from here and grew up a Hawks fan. To say he perfectly represented what hockey at the Old Stadium felt like would do both a disservice. There really is no way to perfectly sum it up in words.
Chicago Stadium existed in a then-abandoned (certainly politically and usually physically, too) neighborhood west of downtown. When attending Hawks games, or Bulls games before Jordan arrived and made it the place to be, you certainly understood why. It was as if the city had to keep us all at a distance and surrounded by a moat so we couldn't get at the rest of the city and sully whatever image the higher-ups wanted. As I wrote in my book, you'll never convince me that the makeup of those Stadium crowds for hockey games wasn't 15,000 people who were kept in a dungeon underneath the Stadium at all times except for when they were let out to attend Hawks games upstairs. You never saw these people at the grocery store or on the L.
The atmosphere was raucous, wild, and many times dangerous. You weren't always completely sure you'd get out of there. And Foley was the perfect ambassador through the radio on what was going on, both on and off the ice. Because he was one of us, after all.
Foley and Tallon's call of Hawks games from the Stadium were probably as close to Bobby Heenan and Gorilla Monsoon doing actual sports as we'll ever get. Though we couldn't see it, Foley made sure we could feel the sheer bedlam the building was most nights. Whether it was a big goal or yet another line brawl, Foley's description always matched the mayhem on the ice and in the stands. We had to sneak radios into our bedrooms to listen long after our parents had ordered us to bed, but how could anyone sleep listening to this racket?
No one got the big moments better than Foley. Everyone has their favorite Foley calls, and he rose to prominence with this one:
Hockey is supposed to be that exciting, that uplifting at its best moments. The kind of breathless action you can't believe you made it through. A personal favorite of mine came in 1992, the first Hawks run to the Stanley Cup Final I saw, and it was Game 4 in the second round against the loathed and heavily favored Red Wings, when the Hawks somehow swept them. They didn't break the 0-0 tie until two minutes left in that game:
I can still clearly put myself back on the couch in the apartment I grew up in, sitting with my headphones on listening to that. Perhaps my first feeling of total elation in sports. Foley was just as excited as we were, because he hated the Red Wings as much as we did. You can hear not just the joy but the smug righteousness of, "We got you, motherfuckers!" in his call.
Something was always going to change when the Hawks moved out of the Stadium and across the street to the glorified airport terminal known as the United Center. Foley seemed to know it during the last great moment in the old barn. There's a wistfulness in the postscript to this call, both knowing the Hawks likely couldn't beat the Leafs but that something would be different after that:
"Hawks win! Hawks win!" You can have your baseball bat cracking or birds singing, there was no sweeter sound to a fan than that. And there wouldn't be any more moments like that for over 20 years.
Further encapsulating how much Foley was one of us, as the team's fortunes soured through incomprehensibly stupid stewardship from Wirtz, he couldn't hide his disdain. Most would tell you it all came to a head during his famous Alex Karpovtsev rant:
We were no less disgusted about what the team became, and Foley was merely channeling the rest of us. But the team wasn't going to have this sort of honesty about its product on the airwaves, and Foley was forced out. Much like a lot of us were.
Foley came back when Wirtz died and his son took over, and was yet another marker of the team's rebirth (sadly sullied now) and perhaps the biggest blinking sign for lapsed fans that it was OK now.
In my previous life when I wrote about the Hawks exclusively, I was harsh on Foley at times. There were moments when it felt like the game moved too fast for him. His constant grabass with Eddie Olczyk would grate. He seemed a little too willing to echo the propaganda the team wanted out there about a player or decision. He definitely said some things he shouldn't have. But it only came from a place where Foley meant so much.
And goddamn if he still couldn't get the big moments so right:
I watched this one in a crowded and loud bar. Thanks to the camera angle we couldn't quite see if Toews had tucked that puck behind Ryan Miller. The place was palpitating with anticipation as Toews skated in, but fell silent for just a brief second, giving the perfect stage for "Hawks win! Hawks win!" to cut through the tension. That call was the tearing off the lid that bottled our delight and relief.
We are perhaps the last generation of hockey fans to be tied to a radio announcer in such a way. And we were certainly the last to be forced to. But Foley was locked in there with us, and he made it OK. I don't know what Syracuse-baritone-big-voice guy they got to replace him, and I don't much care. No announcer of this generation with their polish and training will ever compare. They're all far too soulless and robotic. It's almost an assembly line.
Foley rolled out of the same seats and bars we were in, bitching about the power-play, and right into the booth. He was the first voice of sports for me and so many others, and likely will be the last. It's been a rocky relationship at times, but isn't love always?
Farewell, Pat. Thank you. 
No mention of Flores' lawsuit in Goodell Super Bowl presser
Every year at the Super Bowl, journalists get a chance to ask NFL Commissioner Roger Goodell the questions that need to be answered on live television as the world watches. This year, the inquiries and subject matters ranged from two Black quarterbacks making history, Damar Hamlin, officiating, and the potential ways that the league will broadcast upcoming games. But, the Black cloud — no pun intended — that's been hovering over the NFL for over a year wasn't mentioned once on Wednesday. And it's proof that the NFL is loving the fact that people seem to have forgotten that Brian Flores, Steve Wilks, and Ray Horton have an ongoing class-action lawsuit against the league for its alleged racist hiring practices.
Distractions are part of the game
It's been over a year since the former Miami Dolphins head coach — and current defensive coordinator for the Minnesota Vikings — dropped a bomb on the sports world when he decided that legal action was the only way to make people thoroughly understand just how rigged the game is for Black coaches in the NFL.
"It's hard to speak out…but this is bigger than football. This is bigger than coaching," said Flores.
Days later, Goodell was on stage answering questions at the Super Bowl about that, and more.
"I think I'd start with the basis that racism or any form of discrimination is against our values. And really something that we will not tolerate," he said at last year's press conference.
G/O Media may get a commission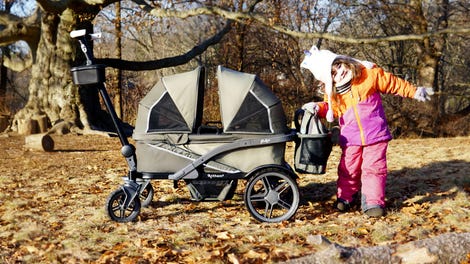 30% off
The Anthem All-Terrain Stroller Wagon Adventure Bundle
Go everywhere with your kids
This must-have bundle nets you either of Gladly's award-winning Anthem2 or Anthem4 All-Terrain Stroller Wagons as well as must-have accessories like a parent cupholder, a removable storage basket, extra-large canopies, a nap system, quilted comfort seats, a cooler bag with a padded shoulder strap, and a travel bag.
Same as it ever was
On Wednesday, it was more of the same. "I do, but I still feel like there's better work, and more work ahead of us," Goodell said about the "meaningful progress" that's taken place with diversity amongst head coaches. "I think that there is progress, and we're pleased to see progress. But it's never enough."
A lot has happened since Goodell took the stage last year in Los Angeles and when he returned to it in Arizona. For instance, Steve Wilks and Ray Horton joined Flores' lawsuit. Flores spent last season as an assistant with the Pittsburgh Steelers, and he's now with the Vikings — as an assistant, again. Wilks was the interim head coach of the Carolina Panthers, but due to the history of the men who carry that title with his skin color, he never had a chance of permanently landing the job — no matter if Panthers owner David Tepper is claiming to be trying to eradicate the league's "old boys network." Horton is coaching in the USFL. And you can still count the number of African-American head coaches in the league on one hand and have some fingers left to spare, as Mike Tomlin (Pittsburgh), DeMeco Ryans (Houston), and Todd Bowles (Tampa Bay) are the melanated trinity.
I thought Goodell said progress was taking place. Does it look like it to you? Maybe my eyesight is bad.
Last fall, the plaintiffs' lawyers were alleging racial bias against the NFL as the league wanted things to move to arbitration — where nobody can see. In court documents, the lawyers wrote that "arbitration would allow 'unconscionably biased one-sided 'kangaroo courts' to determine the outcome. If arbitration is where things land, it means that Goodell will be the arbitrator — which is in the best interest of the teams that are being sued, and the league. The latest development occurred last week when it was reported that the judge presiding over the case has requested that more written briefings about arbitration be submitted later in the month.
What does that mean?
That this thing is still in limbo, as we're waiting to see if this will play out in court or behind closed doors.
But, even if this arbitration decision does go the way of Brian Flores, Steve Wilks, and Ray Horton, we have no idea when the dust will finally settle — which is a win for the league. Because while the league might wind up losing this case, they have a winning strategy. Which is to ignore it, as everyone else did on a Wednesday afternoon in Glendale, Arizona.
Man United 2-2 Leeds LIVE! Sancho goal – Premier League result, match stream and latest updates today
S
ubstitute Jadon Sancho's first goal since September earned Manchester United a thrilling 2-2 draw with Leeds United in the Premier League on Wednesday as the hosts came back from two goals down to salvage a point.
Leeds flew out of the traps and stunned Old Trafford into silence after 55 seconds when Wilfried Gnonto arrowed the visitors in front from the edge of the penalty area.
The home side wasted a host of chances to level in the first half, before Leeds looked to have stormed into a match-winning position early in the second period as Raphael Varane put through his own net to double the visitors' advantage.
However, in-form Marcus Rashford headed the hosts back into the match in the 62nd minute and Sancho stepped off the bench to rescue his side a point eight minutes later, squeezing the ball past goalkeeper Illan Meslier.
Old Trafford sensed another rousing comeback would be completed with a late winner, but their side ran out of steam, failing to win at home for the first time in 14 matches in all competitions.
United stayed third in the standings, three points ahead of Newcastle United in fourth, having played one game more.
Managerless Leeds climbed one place to 16th, one point clear of the relegation zone.
United had beaten their Roses rivals Leeds by a scoreline of 11-3 in their previous two clashes at Old Trafford, and the visitors were on a seven-game Premier League winless streak which led to manager Jesse Marsch being sacked this week.
Their form made it all the more surprising when Leeds raced into an early lead, Gnonto netting the second-earliest goal scored by an away player at Old Trafford in the Premier League, after Edin Dzeko's strike in 2014 for Manchester City.
After De Gea denied Leeds a second with a smart stop at his near post, United twice went close to levelling as debutant Marcel Sabitzer volleyed over before Garnacho drilled just wide.
The chances kept coming for the home side, with Garnacho rounding Meslier before seeing an effort blocked and Sabitzer denied by a brilliant save.
The hosts' profligacy looked to have proved costly as Leeds appeared to be on course to secure a first win in 18 trips to Old Trafford after Varane was powerless to prevent Crysencio Summerville's cross rolling into his own net.
Rashford, however, had another ideas, steering a header home to become the first Manchester United player to score in six consecutive appearances at Old Trafford in the Premier League since Wayne Rooney in 2012.
Brenden Aaronson hit the post from a Leeds free kick, a let- off Manchester United capitalised on as Sancho, back in the squad after a lengthy absence due to physical and mental wellbeing issues, grabbed the equaliser with a calm finish.
Martin Bakole will look to enforce shot at Daniel Dubois | 'He's possibly the most avoided heavyweight out there' | Boxing News
Martin Bakole will look to force a shot at Daniel Dubois and the WBA 'regular' title that the London heavyweight holds.
Bakole's last outing was an impressive, conclusive win over French Olympic champion Tony Yoka from the away corner.
Born in Congo and now based in Scotland, Bakole has only lost once in his 19-bout professional career.
He is now rated at number two in the WBA's heavyweight world rankings and has signed to join new promoter BOXXER.
BOXXER's Ben Shalom told Sky Sports that Bakole intends to enforce a shot at Dubois.
"I think they're about to order a mandatory for Daniel, Martin wants that title. Martin is top of the tree in the WBA now," Shalom said.
"With his win against Tony Yoka, he was so impressive to go out and do that in Paris against a former Olympic champion. On the circuit he's possibly the most avoided heavyweight out there. Delighted to have him. I think he could challenge for world titles very soon."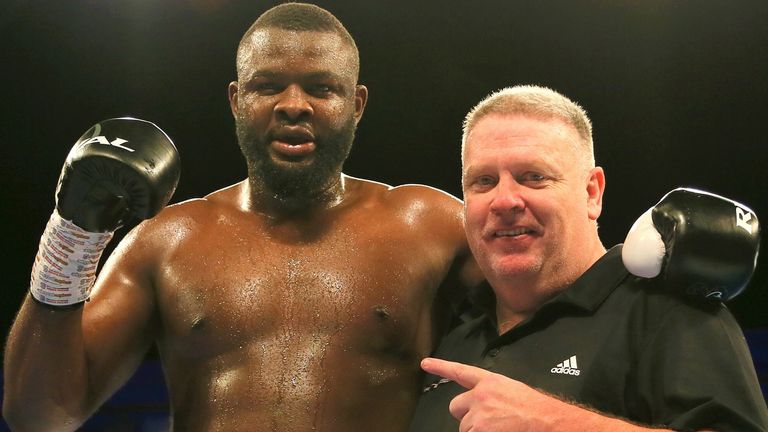 Oleksandr Usyk is the WBA's full world champion, but Dubois holds a secondary or 'regular' belt with that sanctioning body.
The Londoner is recovering from an injury he sustained in his last fight, a scare against Kevin Lerena. That though is the fight Bakole is gunning for.
"Martin backs himself in any fight in the heavyweight division. Daniel Dubois is on his list and Billy Nelson [Bakole's trainer] has been talking about him for a long time and they're ready to go," Shalom said.
"It's definitely that title that we have our eyes on. Obviously Daniel's injured at the moment. But luckily with Martin he will fight anyone. They could pick any name for him to fight for that title and he would take it.
"So we've got a very, very good heavyweight that's willing to fight anyone. That's a perfect mix."