'Your freedom is ours': Biden assures Duda of NATO protection during Poland visit
On his final day in Europe, President Joe Biden on Saturday sought to reassure Poland that the US would defend it against any attacks by Russia.
He also acknowledged that the NATO ally bore the burden of the refugee crisis from the war in neighbouring Ukraine.
"Your freedom is ours," Biden told Poland's president, Andrzej Duda, echoing one of Poland's unofficial mottos.
At the Presidential Palace in Warsaw, the two leaders spoke of their mutual respect and shared goals to end the Russian invasion of Ukraine.
"Although times are very difficult, today Polish-American relations are flourishing," Duda said.
More than 3.7 million people have fled Ukraine since the war began, with 2 million going to Poland.
Earlier this week, the US announced it would take in as many as 100,000 refugees. Biden told Duda that he understood Poland was "taking on a big responsibility, but it should be all of NATO's responsibility."
Biden called the "collective defence" agreement of NATO a "sacred commitment" and said the unity of the Western military alliance was of the utmost importance.
"I'm confident that [Russian President] Vladimir Putin was counting on dividing NATO," Biden said about the Russian president. "But he hasn't been able to do it. We've all stayed together."
Biden visits troops, refugees
With the war entering its second month, European security is facing its most serious test since World War II.
Western leaders have spent the past week consulting over contingency plans in case the conflict spreads. The invasion has shaken NATO from any complacency it might have felt and cast a dark shadow over Europe.
Biden's national security adviser, Jake Sullivan, said a speech that Biden was scheduled to give later Saturday in Poland's capital would outline the "urgency of the challenge that lies ahead" and "what the conflict in Ukraine means for the world, and why it is so important that the free world stay in unity and resolve in the face of Russian aggression."
Biden's remarks will end a four-day trip that included a series of summits in Brussels. In addition to the meeting with Duda, he stopped by a meeting of US and Ukrainian diplomatic and defence officials for an update on Ukraine's military, diplomatic and humanitarian situation.
Also on the schedule: a stop at a stadium where Ukrainian refugees go to obtain a Polish identification number that gives them access to social services such as health care and schools.
The stadium was built in 2012 when Poland and Ukraine hosted the European football championship and was meant to symbolise how far the two countries had come since the Cold War. More recently, it served as a field hospital for COVID-19 patients.
Biden previewed his closing speech during appearances Friday in Rzeszow.
"You're in the midst of a fight between democracies and oligarchs," he told members of the US Army's 82nd Airborne Division during a visit to their temporary headquarters. "Is democracy going to prevail and the values we share, or are autocracies going to prevail?"
During a briefing on the refugee response, Biden said "the single most important thing that we can do from the outset" to force Putin to stop the war "is keeping the democracies united in our opposition."
Biden praised the humanitarian effort as being of "such an enormous consequence" given the scope of the crisis, which adds up to the most significant flow of refugees within Europe since World War II.
He appeared to lament that security concerns "understandably" will keep him from visiting Ukraine on this trip.
Duda, who appeared with Biden on Friday, said the refugees are "guests."
"We do not want to call them refugees. They are our guests, our brothers, our neighbors from Ukraine, who today are in a very difficult situation," he said.
The US has been sending money and supplies to aid the refugee effort. This week, Biden announced $1 billion in additional aid in addition to accepting refugees.
The US and many of its allies have imposed multiple rounds of economic and other sanctions on Russian individuals, banks and other entities in hopes that the cumulative effect will force Putin to withdraw his troops.
Biden was scheduled to return to Washington after his Warsaw speech.
BP scales back green targets as profits hit record
Andrew Griffith, Economic Secretary to the Treasury, told BBC Radio 4's Today programme that the windfall tax struck the "right balance" between helping families with the cost of living and securing the UK's energy supplies. He said its aim was to encourage re-investment of the sector's profits back into the economy
Landmark national security trial of Hong Kong democracy activists begins. Here's what you need to know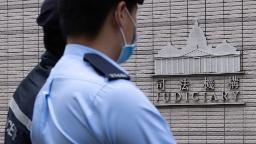 Some were seasoned politicians and veteran protest leaders. Others were academics, unionists and health care workers. They hailed from different generations and held a range of political views, but were brought together by what they say was a shared commitment to Hong Kong's democratic future.



Source link
Texas deputies stop driver hauling 13 illegal immigrants wearing camouflage clothing
Deputies in Zavala County, Texas, caught nearly two dozen illegal immigrants during four separate traffic stops early Sunday, including 13 migrants smuggled in a pickup truck while cloaked in camouflage clothing, authorities said.
In total, the sheriff's office said it apprehended 22 illegal immigrants, while 10 others fled after bailing from the vehicles.
In one case, the sheriff's office said a deputy stopped a black Chevy pickup for a traffic violation on U.S. 57 east of La Pryor. As the deputy went to speak with the driver, he spotted multiple individuals wearing camouflage clothing lying in the bed of the truck.
The deputy then found more individuals inside the vehicle with the driver, who claimed they were all her cousins, according to officials.
ARIZONA BORDER PATROL: MAN TAKES OFF ON HORSEBACK AFTER SMUGGLING ILLEGAL IMMIGRANTS INTO US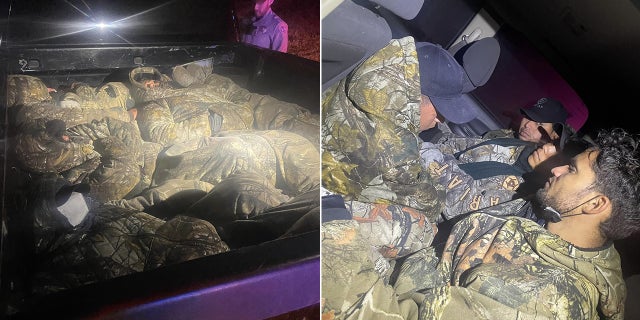 The driver, Samantha Renee Dela Fuente of San Antonio, was charged with smuggling, FOX29 San Antonio reported. Officials said the 13 undocumented individuals were turned over to Uvalde Border Patrol.
In a second incident, a deputy pulled over a Chrysler van for a traffic violation. When the deputy exited his cruiser to approach the vehicle, it sped away and prompted a short pursuit.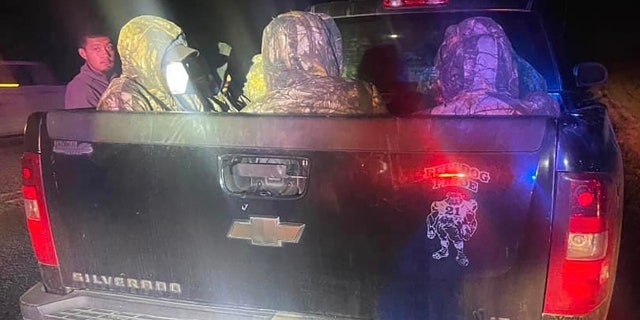 The driver eventually bailed, and three illegal immigrants were apprehended. Deputies said five other undocumented individuals had fled the scene.
PATROL AGENTS TO TESTIFY AT BORDER CRISIS HEARING, AS HOUSE REPUBLICANS PUSH TO IMPEACH DHS SEC MAYORKAS
Deputies said two other illegal immigrants were found hidden in the back of an SUV during a traffic stop on U.S. 57 east of Batesville. The driver had bailed and fled.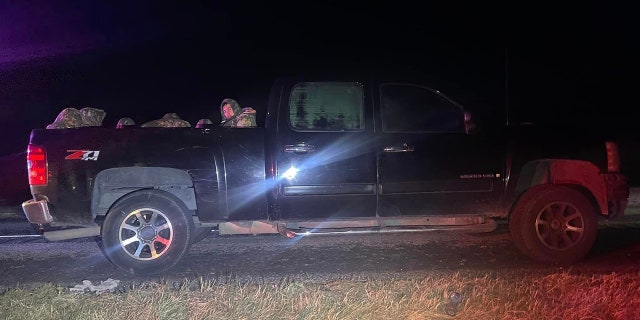 A fourth traffic stop on a blue Chevy Malibu resulted in another short chase until the driver and other individuals bailed from the vehicle into the brush at the West Wind Ranch, the sheriff's office said.
Deputies apprehended three individuals while about five other suspected illegal immigrants escaped.
All the apprehended illegal immigrants were turned over to Border Patrol, the sheriff's office said.