Slavutych, home of Chernobyl workers, occupied by Russian forces, mayor says
Video posted Saturday and verified by The Washington Post shows protesters, some carrying Ukrainian flags, in the city square during a large demonstration against the Russians. Gunfire can be heard in the background, and what appeared to be tear gas can be seen engulfing the crowd.
"Russians opened fire in the air. Noise grenades are thrown at the crowd," the governor of the Kyiv region, Oleksandr Pavlyuk, wrote in a post on his Telegram channel Saturday. "Residents do not disperse. On the contrary, they are increasing."
Fomichev's and Pavlyuk's statements could not be verified independently. Earlier reports said the mayor had been captured by Russian troops but was released following the demonstrations, with Russian troops agreeing to leave the city if people handed over their weapons to the mayor. Slavutych is north of Kyiv, near the Belarusian border and the city of Chernihiv, which is under heavy bombardment by Russian forces and facing a humanitarian crisis.
"Today Slavutych remains a Ukrainian city, under Ukrainian flags. With Ukrainian rule, under the Ukrainian constitution, with our own [laws]," Fomichev said in his address late Saturday. "We now have to learn how to live in these conditions. In the conditions of occupation. Yes, Slavutych has no armed forces. Slavutych is a peaceful city, where energy workers and various specialists, bakers, doctors, teachers and all others live. And we must continue to live."
The city is under a 7 p.m.-to-7 a.m. curfew, controlled by Russian forces, the mayor said. He said that after inspecting buildings for any weapons, the troops "should leave the city." Officials are negotiating safe corridors for residents to leave and working to distribute humanitarian aid, he said. They are also pushing for the rotation of shift workers at the Chernobyl nuclear plant, the mayor said.
The International Atomic Energy Agency said earlier Saturday that Russian shelling in Slavutych prevented workers at the closed plant from returning to their homes for about a week.
Ukrainian officials have said that the Russian takeover of the Chernobyl zone, the scene of a 1986 nuclear disaster, in the first days of the war jeopardized safety at the plant by disrupting shift changes of workers, including technical staffers responsible for managing the radioactive waste stored there.
Pannett reported from Sydney.
Bosnians go to polls to choose between nationalists and reformists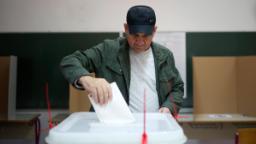 Bosnians go to the polls on Sunday to choose the country's new collective presidency and lawmakers at national, regional and local levels, deciding between long-entrenched nationalist parties and reformists focused on the economy.



Source link
Pine Island residents recount horror, fear as Ian bore down
Paramedics and volunteers with a group that rescues people after natural disasters went door to door Saturday on Florida's devastated Pine Island, offering to evacuate residents who spoke of the terror of riding out Hurricane Ian in flooded homes and howling winds.
The largest barrier island off Florida's Gulf Coast, Pine Island has been largely cut off from the outside world. Ian heavily damaged the only bridge to the island, leaving it only reachable by boat or air. For many, the volunteers from the non-profit Medic Corps were the first people they have seen from outside the island in days.
Residents described the horror of being trapped in their homes as water kept rising. Joe Conforti became emotional as he recounted what happened, saying the water rose at least 8 to 10 feet (2.4-3 meters), and there were 4-foot (1.2-meter) waves in the streets.
"The water just kept pounding the house and we watched, boats, houses — we watched everything just go flying by," he said, as he fought back tears. "We've lost so much at this point."
HURRICANE IAN: FOX CORP DONATES $1 MILLION TO AMERICAN RED CROSS, ENCOURAGES FOX NEWS VIEWERS TO JOIN EFFORT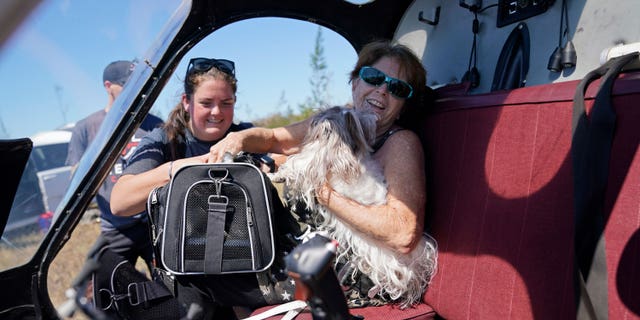 Conforti said if it wasn't for his wife, Dawn Conforti, he wouldn't have made it. He said: "I started to lose sensibility, because when the water's at your door and it's splashing on the door and you're seeing how fast it's moving, there's no way you're going to survive that."
He said his wife had them get on top of a table to keep from getting swept away by the water. The next day, he said, they brought food to an older gentleman who lived on the next block, and they made sure to get him off the island on the first available boat.
"He lost everything," Joe Conforti said of the man. "He said that if we didn't bring him the food, he was going to take his life that night because it was so bad."
DEMOCRATS BLAMING CLIMATE CHANGE FOR HURRICANE IAN AT ODDS WITH SCIENCE, EXPERTS SAY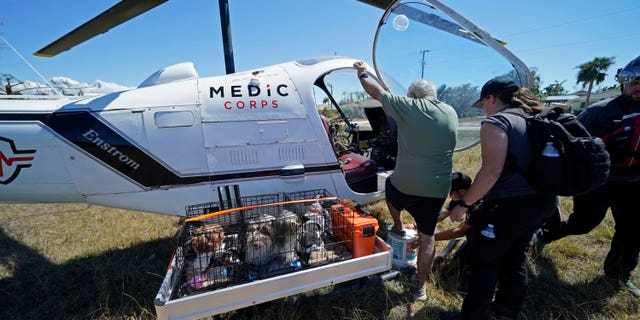 Some residents shed tears as Medic Corps volunteers came to their doors and asked if they wanted to be evacuated on Saturday. Some declined the offer for now and asked for another day to pack their belongings. But others were anxious to get away immediately.
Helen Koch blew her husband a kiss and mouthed the words "I love you" as she sat inside the Medic Corps helicopter that lifted her and seven of the couple's 17 dogs to safety from the decimated island. The dogs were in cages, strapped to the outside of the helicopter as it took off.
Her husband, Paul Koch, stayed behind with the other dogs, and planned to leave the isolated island on a second trip. He told The Associated Press that days earlier, he didn't think they would make it, as the major hurricane raged and the house began taking on water.
HURRICANE IAN IN FLORIDA SPURS FRANTIC MESSAGES ABOUT MISSING LOVED ONES AND WRECKED HOMES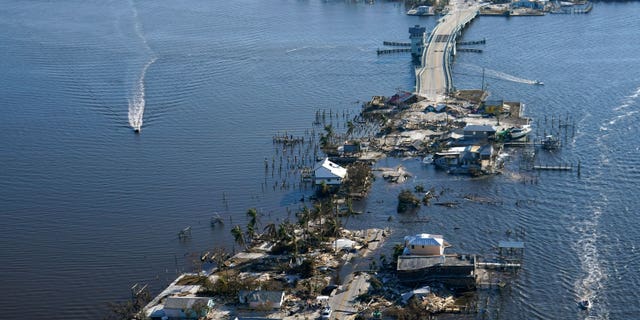 Pine Island has long been known for its quiet, small-town atmosphere and mangrove trees. It's a popular destination for fishing, kayaking and canoeing. Now, bleak scenes of destruction are everywhere in this shattered paradise.
Houses have been reduced to splinters and boats have been tossed onto roadways. The island has no power, and no running water – save for a few hours on Friday when one resident said they were able to take a shower. A community of mobile homes was destroyed.
The Medic Corps volunteers went to one house to search for a woman who was known to have stayed behind during the storm and has had no contact with her friends since. Inside the woman's house, heavy furniture had been toppled over and her belongings were tossed about. There was no sign of the woman, raising fears she had been sucked out of her home by the storm surge.
COAST GUARD RESCUES 2 PEOPLE, DOG STRANDED ON SANIBEL ISLAND AFTER HURRICANE IAN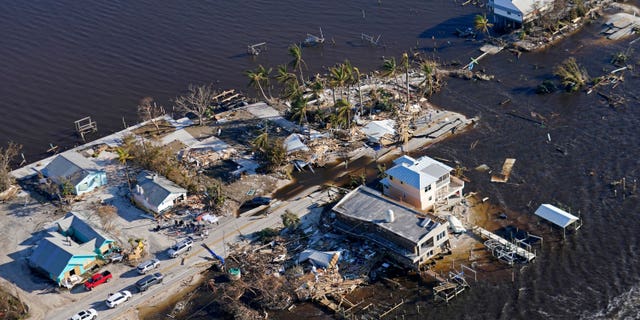 Linda Hanshaw said the tight-knit island community is amazing and "everyone I know who hasn't left is trying to leave."
But that wasn't true for everyone. Kathleen Russell was trying to persuade her elderly husband to leave, but he didn't want to budge just yet. The couple kept declining offers to evacuate. The couple said they were not ready, but might be willing to leave on Sunday.
Claire St. Leger said she had nine people in her house, including neighbors, as the storm came in.
CLICK HERE TO GET THE FOX NEWS APP
"I thought for sure we were all dying," she said. "I just sat in an inside room with pillows, I crossed myself so many times, I thought for sure we were dying. Water kept rising."
Medic Corps is a nonprofit group of pilots, paramedics, doctors, a Navy SEAL and other volunteers that responds to natural disasters and gets people to safety. According to the organization's website, it began in 2013 in response to Super Typhoon Yolanda in the Philippines and in 2017 it began deploying aircraft and responders to Puerto Rico and the U.S. Virgin Islands.
Lina Nielsen on MS diagnosis & support from twin sister Laviai
For almost a decade, only a few people knew that Lina Nielsen had multiple sclerosis.
Diagnosed at the age of 17, she was told by doctors to stop her athletics training in case it worsened her condition.
She recalls: "I remember turning around and saying, 'No, I am an 800m runner. I have to qualify for the national championships.'"
Nine years and several national events later, with half the distance to run but with the addition of a few hurdles, Nielsen was lining up for the biggest race of her career at the World Championships.
It was also the day after her biggest relapse.
"It was probably one of the hardest days of my career, maybe even my life," Nielsen, who has relapsing-remitting MS, tells BBC Sport.
"On the day of the race I was just crying all day."
Multiple sclerosis is a disease that can affect the brain and spinal cord. It cannot be cured, although treatments are available. Nielsen's relapsing-remitting diagnosis means symptoms may be mild for a while before flaring up.
Her flare up in Oregon began with her experiencing sensitivity on her left side. The next day, it had worsened "pretty much by the hour", eventually turning into numbness.
"I remember being on the phone to my boyfriend and he said I would have regretted not running," the 26-year-old says.
"I qualified by right. I ran the time to get in and also came top two at the [British] trials. So in my head, I was just like 'go put on your Great Britain vest and do yourself proud'."
The race helped her decide to publicly discuss her diagnosis before she made her Commonwealth Games debut in August.
"When [the relapse] happened, it completely changed my whole life plan. I wanted to perform and it just stopped me from doing that," she says.
"If you were to watch that race and compare it to other races that I'd run in the season, you would see that my body's not quite the same.
"A lot of people are dealing with things you never know about. I kind of wanted to give a bit of an explanation as to why my World Champs didn't go so well."
'Laviai gave me motivation'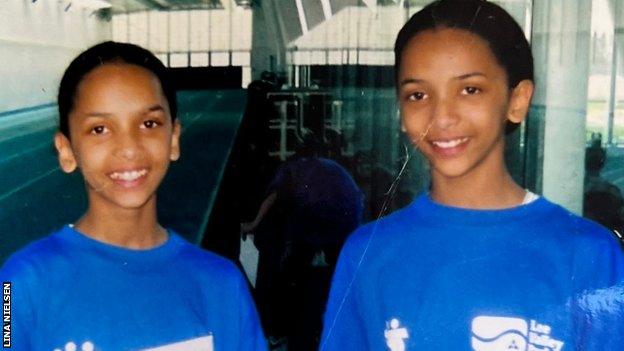 The main symptom that led to Nielsen's diagnosis was complete right-sided weakness, meaning she struggled to move her right arm and leg. Two months later, in the middle of preparing for her A-levels, she was diagnosed with MS.
She was so upset after being diagnosed that she did not tell her twin sister, fellow British athlete Laviai, about it for another two months.
"It kind of felt like a life sentence. You hear the words chronic and incurable. It was really, really difficult," she says.
In 2021, Laviai, a British 400m champion, received an MS diagnosis of her own.
"She had a tingling in her left arm that went on for a bit longer than what would have been normal after getting a vaccine," Nielsen adds.
"We kind of knew this might be MS because she's my twin sister and genetics can play a part.
"She turned around to me and said 'because you've done it, I'm not scared.' She was quite early in the diagnosis so it was looking quite positive."
The Nielsen twins are known for their outpouring of emotional support for each other after races and Lina says the MS is the reason for that.
"When you see her running to the track, hugging me and us both crying, it's because we are the only two people that really understand what it meant to even get to that point," she says.
"She has been such a massive support for me. At times where I couldn't even brush my own hair, she would brush my hair for me.
"She gave me the motivation to keep going. She'd say 'you never know how far you're going to get' at times when I wanted to quit."
Another person who has been an inspiration to Nielsen is British Paralympic gold medallist Kadeena Cox.
Nielsen did not know Cox but contacted her on social media when she heard about her diagnosis of relapsing-remitting MS, which came just a few months after Nielsen's.
"I said: 'I've also got the same thing. I'm really scared. I don't know what this means for my track and field or even my life', and she responded with so many positive messages," says Nielsen.
"We ended up exchanging numbers and we've been in contact throughout all these years. She has been such a good friend to me.
"After the Commonwealth Games, she ran over to me and I hugged her for like five minutes. She's a massive source of inspiration."
Now, Nielsen is looking ahead and focusing her energy on the 2024 Paris Olympics.
"I feel like there's this kind of added pressure from the outside to hopefully perform a little bit better next year and going into 2024," she says.
"I went five years with no relapses before those World Championships so I've managed to get a good chunk of training in and to really climb the ladder.
"With relapsing-remitting MS, you can be healthy for a long period of time. And so it doesn't so much hinder your day-to-day life – I can still perform at a good level and aim for those world and Olympic finals."