Russia planning to deploy 1,000 Wagner mercenaries to eastern Ukraine, says UK's defence ministry
A private Russian military contractor that has been accused of human rights abuses has deployed to eastern Ukraine, according to Britain's Ministry of Defence.
The ministry says the Wagner Group is expected to bring up to 1,000 mercenaries to take part in combat operations in Ukraine after the regular Russian military experienced heavy losses.
Air Vice-Marshal Mick Smeath, Defence Attaché at the British Embassy in Washington, told reporters that Russia has likely been forced to reprioritise Wagner personnel for Ukraine at the expense of its operations in Africa and Syria.
Smeath's statement comes after Pentagon officials said recently they expected Russia to look for ways to replace their combat losses with Russian troops based in other countries. Last Friday, the Pentagon said it appeared Moscow was drawing on Russian troops based in Georgia, but no details were available on their number or the timing of their expected deployment.
Thousands of mercenaries from the Wagner Group have been deployed in Syria since 2015. The US and EU consider the group to be a surrogate of the Russian military, but the Kremlin denies it even exists.
In December, the EU imposed sanctions on the Wagner Group and its founder, Dmitry Utkin, for fomenting violence and committing human rights abuses in the Middle East, Africa and Ukraine.
What is the Wagner Group?
One of a number of private military groups from Russia, the Wagner Group emerged out of the conflict in the Donbas in eastern Ukraine, when pro-Russian forces rose up against the Ukrainian government after the 2014 annexation of Crimea.
The Wagner group has reportedly carried out clandestine combat missions on the Kremlin's behalf in Ukraine and Syria, although Russian authorities deny Wagner contractors carry out their orders.
Three Russian journalists who were investigating Wagner's presence in the Central African Republic were murdered in the summer of 2018.
In 2019 Libya's Government of National Accord (GNA) claimed Russian mercenaries from the Wagner Group were involved in fighting alongside anti-government forces.
And in 2020 the government of Belarus arrested 33 Russian citizens and accused them of wanting to orchestrate "mass riots" just before the presidential election. Authorities in Belarus said the men were Wagner Group mercenaries.
The oligarch considered to be the head of the Wagner Group — Yevgeny Prigozhin, a businessman with ties to Putin — has repeatedly denied any connection with the group.
The US imposed sanctions on him after it accused him of trying to meddle in its 2016 presidential election and the 2018 congressional elections.
Prigozhin has denied any links to Wagner and has declined to comment on the US allegations, calling them a "private matter" for the US Treasury.
Paramilitary recruits
Officially there are no private military companies allowed in Russia, and being a mercenary is a criminal offence. However, analysts say companies like Wagner operate under the control of the Russian security services and military.
"Without a nod from the Kremlin, they do not go to war, even if the Kremlin denies it and says they do not know anything," Pavel Felgenhauer, a Russian defence analyst, told Euronews.
Wagner Group recruits are said to earn a few thousand dollars each month — low by comparable international standards for recruiting former military personnel to private security firms — and families will receive less than €50,000 in the event of their death.
Unlike American or British security firms, Wagner recruits are often used as elite strike force teams in conflict zones — or as specialist snipers.
Former New Zealand rugby player Johnstone becomes first All Black to come out as gay
Andrew Carnegie Medal for Excellence awarded to Julie Otsuka, Ed Yong
Novelist Julie Otsuka has strong memories of libraries from her childhood California — the bike rides with her best friend to the local branch; the soft, firm sound of librarians closing books; the shopping bags she and her friend would fill with science fiction and other stories.
"It seemed like I lived at the library," she says. "I felt very free to explore there, and explore away from adult eyes."
The library community also has warm feelings about Otsuka. Her novel "The Swimmers," in which a group of swimmers collectively narrate their daily routines and what happens when those routines are disrupted, has won the Andrew Carnegie Medal for Excellence in Fiction, a $5,000 honor presented by the American Library Association. Ed Yong's "An Immense World: How Animal Senses Reveal the Hidden Realms Around Us" won the nonfiction medal, which also comes with a $5,000 cash prize.
CARNEGIE HERO FUND COMMISSION ANNOUNCES 20 MEDAL WINNERS
"Julie Otsuka proves herself a master of narrative voice, thrillingly balancing the incredible vitality of community life with the myriad challenges faced by individuals and families within that community," Stephen Sposato, chair of the medals' selection committee, said in a statement released Sunday.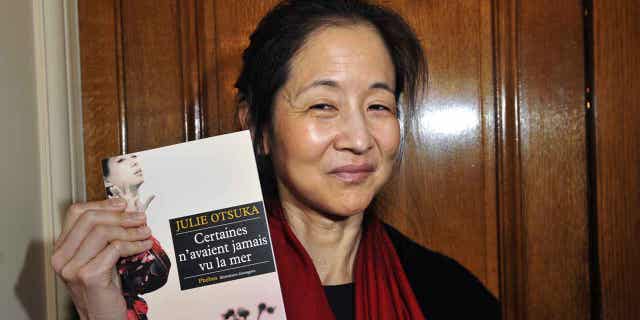 "And, standing out even during a recent golden age of nature writing, Ed Yong dazzles with a deeply considered exploration of the many modes of sensory perception that life has evolved to navigate the world, written with exhilarating freshness."
COLSON WHITEHEAD NOVEL A CARNEGIE MEDAL FINALIST
Otsuka, 60, has also written the novels "The Buddha in the Attic," winner of the PEN/Faulkner award in 2011; and "When the Emperor Was Divine." Her other honors include a Guggenheim Fellowship and an Arts and Letters Award in Literature from the American Academy of Arts and Letters.
The 41-year-old Yong, a native of Malaysia who emigrated to the United Kingdom in his teens, is a staff writer for The Atlantic. He won a Pulitzer Prize in 2021 for his reporting on the coronavirus pandemic. Like Otsuka, Yong was influenced early by libraries. "Strangely enough for indoor spaces, libraries for me were gateways to the natural world," he told The Associated Press. "As a kid, I spent a lot of time reading books that expanded my knowledge — and love — of nature, and I can only hope that 'An Immense World' does the same for people today."
CLICK HERE TO GET THE FOX NEWS APP 
The Carnegie Medals were established in 2012, with help from a grant from the Carnegie Corporation of New York. Previous winners include James McBride, Doris Kearns Goodwin and Matthew Desmond.
Teacher accused of abuse at Edinburgh schools arrested


Man accused of abuse by BBC broadcaster Nicky Campbell set to appear in court in South Africa.



Source link