Poland to ban Russian oil imports, as Germans urged to save energy
Poland says it is putting in place Europe's most radical plan to cut dependence on Russian energy sources.
Prime Minister Mateusz Morawiecki announced steps on Wednesday to end all Russian oil imports by the end of 2022.
Poland said Tuesday it was banning imports of Russian coal. Morawiecki said he expects coal imports will be ended in May.
Warsaw has also been taking strides to cut reliance on Russian gas. A liquid gas terminal was built in Swinoujscie and is being expanded now, receiving deliveries from Qatar, the US, Norway and other exporters. A new, Baltic pipeline bringing gas from Norway is to open at the end of this year.
Morawiecki says Poland will take steps to become "independent" of Russian supplies and is calling on other European Union countries to "walk away" from Russian fossil fuels. Poland argues that money from oil and gas exports are fueling Russia's war machine and that that should stop.
Germany issues early warning over gas supplies
Meanwhile, in Germany, the government issued an early warning over natural gas supplies and called on consumers to save energy amid concerns that Russia could cut off deliveries unless it is paid in roubles.
Western nations have rejected the Russian demand for rouble payments, arguing it would undermine the sanctions imposed against Moscow over the war in Ukraine.
Economy Minister Robert Habeck said the move was a precautionary measure as, so far, Russia is still fulfilling its contracts. But he appealed to companies and households in Germany to start reducing their gas consumption.
"There have been several comments from the Russian side that if this (payments in roubles) doesn't happen, then the supplies will be stopped," he told reporters in Berlin, adding that Moscow is expected to unveil new rules for gas payments on Thursday. "In order to be prepared for this situation I have today triggered the early warning level."
Habeck, who is also Germany's energy minister and vice-chancellor, said this was the first of three warning levels and entailed the establishment of a crisis team in his ministry that will step up monitoring of the gas supply situation.
Germany's energy industry association BDEW welcomed the government's move.
"Even though there's no shortage yet it's necessary for all those involved to have a clear road map in case of a supply interruption," its chairperson Kerstin Andreae said. "This means that we need to make concrete preparations now for the emergency stages, because if there is a supply interruption then things have to happen fast."
EU countries scaling back reliance on Russia energy sources
The European Union has so far stopped short of endorsing a blanket ban on energy imports from Russia. In addition to the fact that they are dependent on Russian fossil fuels to make their economies function, many member countries and EU officials are worried that an embargo could be counterproductive since Russia could sell its production — particularly of oil — to third countries, likely at a higher price.
Still, Germany, like other countries in the bloc, has taken steps in recent weeks to reduce its dependence on fossil fuel supplies from Russia because of the war in Ukraine.
"On average we in Germany imported 55% of our gas from Russia in recent years, and this has now already gone down to 40%," Habeck said. Berlin has signed deals with several supplies of liquefied natural gas, or LNG, which is shipped to neighbouring European countries and then pumped to Germany.
Habeck said Germany's gas storages are currently filled to about 25% capacity.
"The question how long the gas will last basically depends on several factors (such as) consumption and weather," he said. "If there's a lot of heating, then the storage facilities will be emptied."
He added that Germany is prepared for a sudden stop in Russian gas supplies, but warned that this would have "considerable impacts" and urged consumers to play their part in preventing a shortage by scaling back demand.
"We are in a situation where, I have to say this clearly, every kilowatt hour of energy saved helps," said Habeck. "And that's why I would like to combine the triggering of the warning level with an appeal to companies and private consumers to help Germany, help Ukraine, by saving gas or energy as a whole."
The second warning level would require companies in the gas industry to take necessary measures to regulate supply. The third warning level entails full state intervention into the gas market to ensure that those who most need gas — such as hospitals and private households — receive it, said Habeck.
"We're not there and we don't want to go there," he added.
Jailing of trans rapist Isla Bryson is 'shambles', says prison chief
Sarah Armstrong, a professor of criminology at Glasgow University, said she was surprised that concern over the safety of women in prison was "focused on this one, very exceptional case" given the "scathing" reports from the European Committee on the Prevention of Torture after previous visits to Cornton Vale.
Protests reach Haiti airport and Prime Minister's residence over police killings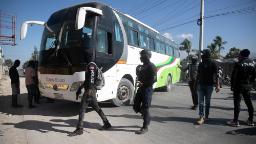 Protesters and some police officers protested at the official residence of Haiti's prime minister in the capital Port-au-Prince on Thursday, decrying recent killings of police, according to one of his advisors.



Source link
Actor Julian Sands latest hiker to encounter disaster near popular LA mountain, expert weighs in on dangers
Several hikers have recently been killed or disappeared around a popular southern California peak – including missing actor Julian Sands – which should be a warning for would-be adventurers, experts said.
Mount Baldy's breathtaking views come with real danger that can quickly turn a winter alpine trek into a nightmare, hiking expert Cris Hazzard told Fox News Digital.
"When there's snow and ice on the mountains, it just takes one misstep to slide hundreds of feet down the slopes," said Hazzard, of HikingGuy.com. People die on Mount Baldy every winter "like clockwork," he added.
"Even if you survive, you could be trapped in a spot where no one can see you," Hazzard said.
ACTOR JULIAN SANDS IDENTIFIED AS MISSING HIKER IN CALIFORNIA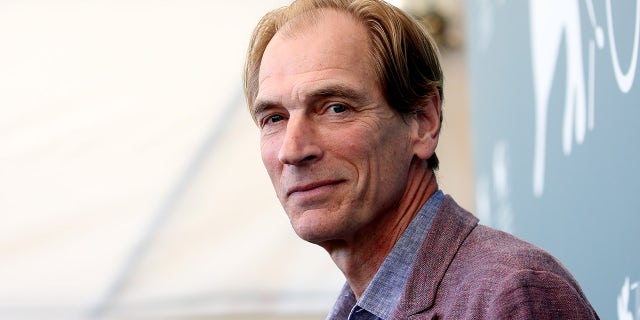 Mount Baldy, in the Angeles National Forest about 50 miles west of downtown L.A., is a magnet for hikers who travel the alpine forests and double switchbacks around its 10,000-foot summit. On a clear day, visitors to the summit can see all the way to Catalina Island and the Pacific Ocean, Hazzard said. 
Sands, 65, became the latest hiker to go missing there nearly two weeks ago and he remained unaccounted for as of Thursday.
While the search for Sands continued Tuesday, 75-year-old Jin Chung was rescued after he never returned from a hike days earlier. The missing cases both came after a woman was killed when she slipped down a roughly 500-foot icy hillside.
The treacherous icy hills, Hazzard told Fox News Digital, are what usually get hikers into trouble in that part of the Angeles National Forest.
IPHONE EMERGENCY SERVICE HELPS RESCUE PAIR AFTER CRASH IN SOUTHERN CALIFORNIA FOREST
"Slipping on a narrow trail when hiking up a mountain in the summer usually means a bruised ego and a scrape or two," Hazzard said. "But one slip or misstep on that same stretch of trail in the winter can get you into real trouble."
Some hikers "don't have the experience" – or the gear – for the mountain's winter terrain, he added. 
"It's easy to get lost when the trail is covered in snow or maybe even blazed incorrectly by the person before you," he said.
"Climbing Mount Baldy right now should be done with at least a helmet, crampons, and ice axe and if you have yet to practice using tools like an ice axe, it's just extra weight you're carrying," he added.
While there are areas around Mount Baldy that are more dangerous than others, including the Devil's Backbone and the climb to Cucamonga Peak, Hazzard said trails with a lower profile can be just as dangerous in the winter.
NH HIKER FALLS TO DEATH OFF MOUNTAIN CLIFF WHILE TAKING PHOTOS WITH HIS WIFE, AUTHORITIES SAY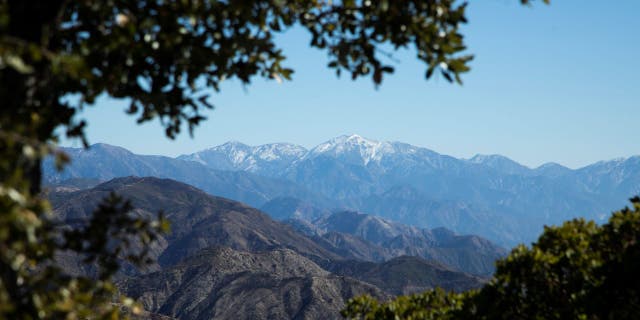 "You don't have to slide hundreds of feet down a slope to get hurt," Hazzard said. "It could be the section of the trail where you think it's relatively safe to let your concentration wane and get sloppy with your footing."
Hazzard suggested alternative southern California hiking options where snowfall is not an issue, including Joshua Tree National Park and the lower peaks of the San Gabriel and Santa Ana Mountains. However, if hikers insist on Mount Baldy during the winter, Hazzard provided some basic tips to try and stay as safe as possible. 
"Find a Forest Service road or flat trail and start there," Hazzard said. "You can use your trekking poles, microspikes, or snowshoes, and it can be a great time. Bring the 10 essentials, wear layers that you can adjust to control heat and sweat, and let your family know where you're hiking."
HIKER FOUND DEAD IN TEXAS NATIONAL PARK AFTER HIGH WIND WARNING ON NEW YEAR'S EVE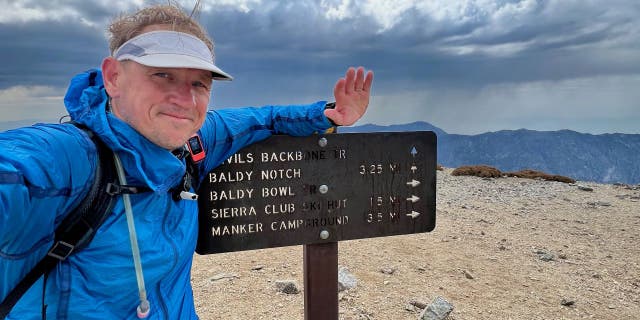 "Expect to go slower than usual and enjoy the scenery; winter hiking is not about bagging the miles or summits. If you really want to bag Mount Baldy in the winter, learn how to mountaineer, practice your skills, pick the ideal conditions, and do it responsibly."
The "extremely dangerous" conditions that claimed the life of the female hiker and another hiker in recent weeks prompted local authorities to urge hikers, including experienced ones, to avoid the area for the time being.
"Please know the current conditions on Mount Baldy are adverse and extremely dangerous. Due to the high winds, the snow has turned to ice, making hiking extremely dangerous," authorities warned. 
CLICK HERE TO GET THE FOX NEWS APP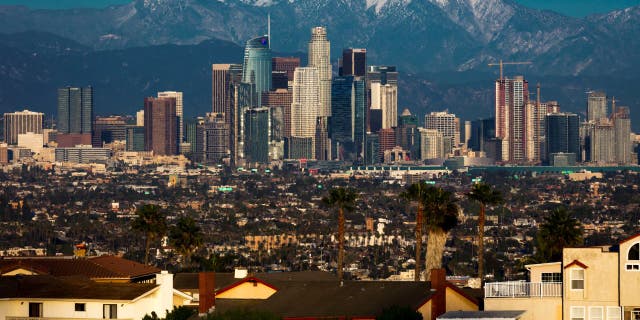 The San Bernardino County Sheriff's Search and Rescue Team said it has responded on 14 rescue missions in the last four weeks alone.
Search crews continue to look for Sands, known for his roles in "The Killing Fields" and "Leaving Las Vegas," as of Thursday afternoon amid wintry conditions and avalanche warnings.
The U.S. Forest Service did not immediately respond to a request for comment from Fox News Digital.