Blinken tries to calm allies ahead of possible Iran deal
"When it comes to the most important element, we see eye-to-eye," Blinken told a news conference with Israeli Foreign Minister Yair Lapid in Jerusalem. "We are both committed, both determined that Iran will never acquire a nuclear weapon."
The Biden administration has been working to renew the 2015 nuclear deal, which placed curbs on Iran's nuclear program in exchange for billions of dollars in sanctions relief. With support from Israel, the Trump administration withdrew from the deal in 2018, causing it to unravel.
Although Iran has since raced ahead with its nuclear program, Israel and Gulf Arab countries are deeply concerned about restoring the original deal. Israel fears it does not include enough safeguards to prevent Iran from developing nuclear weapons. Both Israel and its Gulf allies also believe that relief from economic sanctions will allow Iran to step up its military activities across the region, including support for hostile militant groups.
Blinken said the U.S. believes that restoring the nuclear deal "is the best way to put Iran's program back in the box it was in." He added: "Our commitment to the core principle of Iran never acquiring a nuclear weapon is unwavering."
He also vowed to cooperate with Israel to counter Iran's "aggressive behavior" across the region.
It remains unclear if or when the nuclear deal will be renewed, but there are indications it could be soon despite several last-minute snags. The negotiations have been complicated by Russia's invasion of Ukraine. Russia is among the six global powers negotiating with Iran, and condemnations by the U.S. and other western powers involved in the talks have added an element of uncertainty to the talks.
If a deal is reached, Israel has repeatedly noted that it is not a party to the agreement and reserves the right to take action, including a potential military strike, against Iran if it feels it is necessary.
"Israel and the United States will continue to work together to prevent a nuclear Iran. At the same time, Israel will do anything we believe is needed to stop the Iranian nuclear program. Anything," Lapid said. "From our point of view the Iranian threat is not theoretical. The Iranians want to destroy Israel. They will not succeed, we will not let them."
Underscoring regional anxieties, Israel's government has hastily arranged a meeting of top diplomats from Arab countries that have normalized relations with Israel and Blinken. The two-day gathering is set to begin later Sunday at a kibbutz in the Negev Desert.
In addition to Blinken and Israeli Foreign Minister Yair Lapid, their counterparts from Bahrain, Morocco, the United Arab Emirates and Egypt will attend. All four countries are considered moderate Sunni Muslim nations that have deep concerns about Iranian activity across the region.
Meanwhile, U.S. preoccupation with Russia's invasion of Ukraine and bolstering NATO's presence in Eastern Europe has fueled concerns throughout the Middle East that America's attention may be stretched thin.
It remained unclear whether any decisions would emerge from the diplomatic gathering. But for Israel, hosting such a gathering itself is a significant accomplishment. Egypt is the first Arab country to make peace with Israel, while the other three nations normalized relations with Israel in 2020 in the so-called Abraham Accords brokered by the Trump administration.
"For those who weren't paying attention, the foreign relations of Israel are in a good period," Israeli Prime Minister Naftali Bennett told a Cabinet meeting on Sunday. "Israel is an important player on the world stage, and we are cultivating old connections and building new bridges."
Yoel Guzansky, a senior researcher at the Institute for National Security Studies, a Tel Aviv think tank, said the meeting was truly historic by bringing together four Arab four ministers to Israel for a public, high-level gathering for the first time. He said it cemented Israel's new role as a key regional player and bridge between the Arab world and the U.S., with shared concerns about Iran and the expected nuclear deal as the common denominator.
"This is quite remarkable, five of them in the same place at the same time on the eve of signing a deal with Iran," Guzansky said. "This is the significance."
He said the talks would likely focus heavily on how the region will look after a nuclear deal that the allies dislike is signed.
"I think there's a lot to talk about," he said. "It's not a secret that the allies want something in return from the U.S. They see the upcoming deal with Iran as bad."
He said each country would be looking for different things, whether it be security guarantees, weapons systems, intelligence or diplomatic support.
"Each country has its own wish list, but the common denominator is Iran," he said.
While Iran may be the issue of most immediate concern to Israel and its neighbors, the war in Ukraine and efforts to persuade Russian President Vladimir Putin to end the invasion loom large.
That conflict has roiled world energy markets, leading the U.S. and Europe to appeal to Arab and other major oil suppliers to step up production. The war may also soon result in major food security challenges, particularly across the Middle East, which imports vast quantities of wheat from Ukraine.
Bennett has presented himself as a mediator between Putin, Ukraine and the West but his discussions with the Russian leader have yet to bear fruit. U.S, officials say Blinken plans to discuss possible roles that Israel, which has concerns about the Russian presence in its northern neighbor Syria, could play.
Israel has walked a fine line between Russia and Ukraine since hostilities began last month. Bennett has expressed support for the Ukrainian people but stopped short of condemning Russia's invasion. Lapid has been much more outspoken in his criticism of Russia, giving Bennett some space to continue his mediation efforts.
Associated Press writer Josef Federman in Jerusalem contributed to this report.
Jailing of trans rapist Isla Bryson is 'shambles', says prison chief
Sarah Armstrong, a professor of criminology at Glasgow University, said she was surprised that concern over the safety of women in prison was "focused on this one, very exceptional case" given the "scathing" reports from the European Committee on the Prevention of Torture after previous visits to Cornton Vale.
Protests reach Haiti airport and Prime Minister's residence over police killings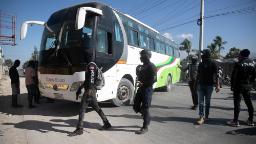 Protesters and some police officers protested at the official residence of Haiti's prime minister in the capital Port-au-Prince on Thursday, decrying recent killings of police, according to one of his advisors.



Source link
Actor Julian Sands latest hiker to encounter disaster near popular LA mountain, expert weighs in on dangers
Several hikers have recently been killed or disappeared around a popular southern California peak – including missing actor Julian Sands – which should be a warning for would-be adventurers, experts said.
Mount Baldy's breathtaking views come with real danger that can quickly turn a winter alpine trek into a nightmare, hiking expert Cris Hazzard told Fox News Digital.
"When there's snow and ice on the mountains, it just takes one misstep to slide hundreds of feet down the slopes," said Hazzard, of HikingGuy.com. People die on Mount Baldy every winter "like clockwork," he added.
"Even if you survive, you could be trapped in a spot where no one can see you," Hazzard said.
ACTOR JULIAN SANDS IDENTIFIED AS MISSING HIKER IN CALIFORNIA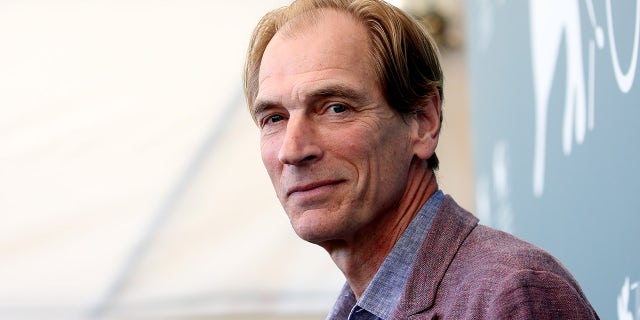 Mount Baldy, in the Angeles National Forest about 50 miles west of downtown L.A., is a magnet for hikers who travel the alpine forests and double switchbacks around its 10,000-foot summit. On a clear day, visitors to the summit can see all the way to Catalina Island and the Pacific Ocean, Hazzard said. 
Sands, 65, became the latest hiker to go missing there nearly two weeks ago and he remained unaccounted for as of Thursday.
While the search for Sands continued Tuesday, 75-year-old Jin Chung was rescued after he never returned from a hike days earlier. The missing cases both came after a woman was killed when she slipped down a roughly 500-foot icy hillside.
The treacherous icy hills, Hazzard told Fox News Digital, are what usually get hikers into trouble in that part of the Angeles National Forest.
IPHONE EMERGENCY SERVICE HELPS RESCUE PAIR AFTER CRASH IN SOUTHERN CALIFORNIA FOREST
"Slipping on a narrow trail when hiking up a mountain in the summer usually means a bruised ego and a scrape or two," Hazzard said. "But one slip or misstep on that same stretch of trail in the winter can get you into real trouble."
Some hikers "don't have the experience" – or the gear – for the mountain's winter terrain, he added. 
"It's easy to get lost when the trail is covered in snow or maybe even blazed incorrectly by the person before you," he said.
"Climbing Mount Baldy right now should be done with at least a helmet, crampons, and ice axe and if you have yet to practice using tools like an ice axe, it's just extra weight you're carrying," he added.
While there are areas around Mount Baldy that are more dangerous than others, including the Devil's Backbone and the climb to Cucamonga Peak, Hazzard said trails with a lower profile can be just as dangerous in the winter.
NH HIKER FALLS TO DEATH OFF MOUNTAIN CLIFF WHILE TAKING PHOTOS WITH HIS WIFE, AUTHORITIES SAY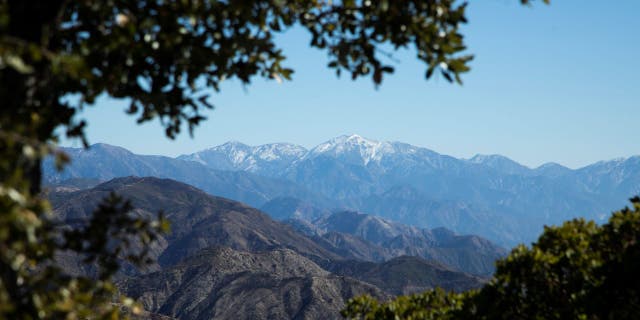 "You don't have to slide hundreds of feet down a slope to get hurt," Hazzard said. "It could be the section of the trail where you think it's relatively safe to let your concentration wane and get sloppy with your footing."
Hazzard suggested alternative southern California hiking options where snowfall is not an issue, including Joshua Tree National Park and the lower peaks of the San Gabriel and Santa Ana Mountains. However, if hikers insist on Mount Baldy during the winter, Hazzard provided some basic tips to try and stay as safe as possible. 
"Find a Forest Service road or flat trail and start there," Hazzard said. "You can use your trekking poles, microspikes, or snowshoes, and it can be a great time. Bring the 10 essentials, wear layers that you can adjust to control heat and sweat, and let your family know where you're hiking."
HIKER FOUND DEAD IN TEXAS NATIONAL PARK AFTER HIGH WIND WARNING ON NEW YEAR'S EVE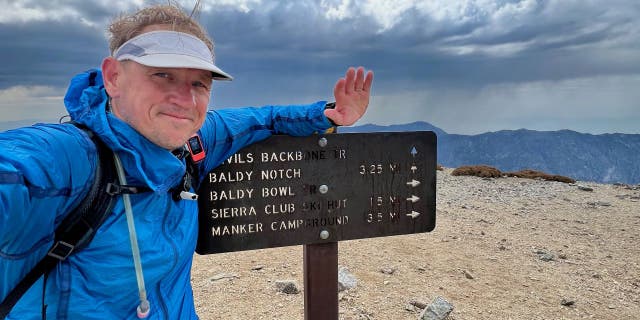 "Expect to go slower than usual and enjoy the scenery; winter hiking is not about bagging the miles or summits. If you really want to bag Mount Baldy in the winter, learn how to mountaineer, practice your skills, pick the ideal conditions, and do it responsibly."
The "extremely dangerous" conditions that claimed the life of the female hiker and another hiker in recent weeks prompted local authorities to urge hikers, including experienced ones, to avoid the area for the time being.
"Please know the current conditions on Mount Baldy are adverse and extremely dangerous. Due to the high winds, the snow has turned to ice, making hiking extremely dangerous," authorities warned. 
CLICK HERE TO GET THE FOX NEWS APP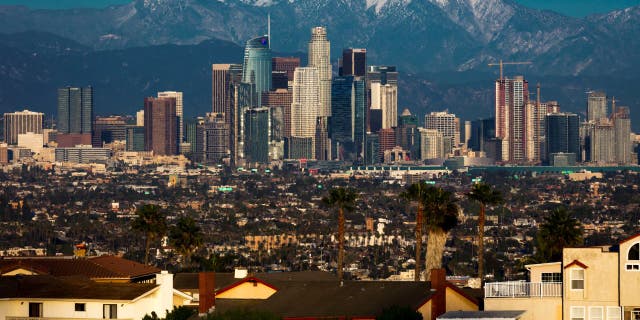 The San Bernardino County Sheriff's Search and Rescue Team said it has responded on 14 rescue missions in the last four weeks alone.
Search crews continue to look for Sands, known for his roles in "The Killing Fields" and "Leaving Las Vegas," as of Thursday afternoon amid wintry conditions and avalanche warnings.
The U.S. Forest Service did not immediately respond to a request for comment from Fox News Digital.